Love - A Life Positive love story
Jamuna Rangachari shares how she became a matchmaker thanks to Life Positive

Download PDF Format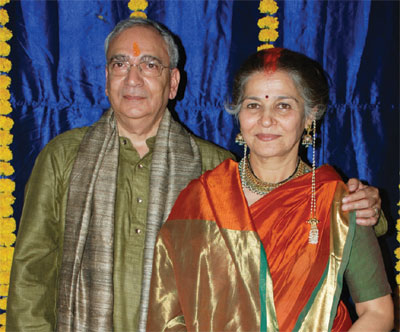 Atul and Suhasini: Mature love Last year, when I received an invitation for his wedding from Atul Gurtu, a physicist formerly with TIFR, I was thrilled and excited. I was a close friend of his former wife, Promila, who had passed away of cancer. Atul too was a good friend of mine.

When I entered the wedding grounds. Suhasini Mulay, the national award-winning actress, and his new bride, shook my hands and thanked me immensely. I was quite surprised as I did not know her personally at all. I then came to know that Atul had told her that I requested and convinced him to write in Life Positive about how they had tackled Promila's illness. (http://www.lifepositive.com/Mind/Heartspeak/To_Love_and_to_Lose42008.asp). Suhasini told me that it was this article that was instrumental in drawing her close to him, for his devoted tending of Promila during her terminal illness had earned her deep respect.

The 60-year-old five-time national awardee and popular screen mom met 65-year-old physicist Atul Gurtu online. Mulay, who has won acclaim for her roles, Hu Tu Tu, Dil Chahta Hai and Lagaan, met the particle physicist only after months of chatting online.

While she had many FB friends, she was drawn to Gurtu because of the nature of their conversations. He was a physicist employed with Tata Institute of Fundamental Research (TIFR) who was very interested in all matters of life and related most things to science. "I have always been into reading serious material. I was happy that we were able to chat about issues not related to my profession," she says.

Both of them found it a challenge to find someone with whom they could "connect", someone whose world view was similar. Atul was looking for a companion who was liberal and cosmopolitan in all spheres of life, with whom he could discuss any topic under the sun. Surprisingly, Suhasini, in spite of being a well travelled actress, realised most men did not treat women as equals. Atul, however, turned out to be the rare exception.

She says, "Atul had written in the article about how he discovered Promila had cancer. After the initial period of depression, rather than sitting and crying over it, he decided to make his wife as happy as he could. So, for the next four-five years they did everything they ever wanted to do. Learning this endeared him to me."

When they realised that they really enjoyed being together and were unattached, they took the plunge into matrimony, Suhasini for the first time.

"The advantage of being at this age is to have worked out what one wanted, consciously, or having a feel for it, and being able to recognize these in the suitable person, when one comes across one," says Atul.

Suhasini, says, "Most people (including the person who supplied the tent) could not believe it was me, and not my non-existent daughter, who was getting married." The marriage was at Arya Samaj, and friends and family joined in the celebration with gusto. Suhasini's family and friends, Atul's family and friends and even Promila's family and friends were present to bless the couple and wish them well. Although Atul had been married before it had been a court marriage, so the pomp and ceremony of the traditional wedding was a new experience for both of them. After a year of marriage, they say that they feel even closer to each other. Suhasini generally tends to have a busy schedule and long working hours. A typical shooting day runs into a 12-hour shift which, with travel, adds to 14 hours. It took Atul a while to get used to the fact that he literally did not know for sure what she was doing next day, let alone next week or next month, for she continues with her documentary making and acting. Having retired from a regular job (in the Tata Institute of Fundamental Research) Atul today is partly engaged in outreach talks, and some time is spent in his new assignment as professor in King Abdulaziz University, Jeddah. So they have decided mutually to take off seven days in a month, when they spend time together.

They use the time to travel, having visited Dubai, Pakistan, Cambodia, and Saudi Arabia, going for safaris, and paragliding. Every time I meet them, I am so glad for their happy union and the love and life on their faces.

I am sure Promila would be happy and blessing them from above, as this is what she had wished for her husband, even when she was facing the last journey of her life.

As for Life Positive, we take joy in having been instrumental in bringing together this wonderful couple and affording them love and companionship in the autumn of their lives. May they have many beautiful years of togetherness ahead of them.

See more articles on Love : http://www.lifepositive.com/Articles/Love

Reader's Comments
Subject:
Wants to know whether love finds its way
- 10 September 2013
Hi, Reading this was a film story... Great. But as I am in love but don't know whether we will marry each other or not, she can't say to her mom, Now I want to know from the writer and the person involved in this story that: 1. Whether GOD do something to join us? 2 .Will Love
More...
by:
Santosh Jha
Subject:
Jamuna
- 8 September 2013
Dear Jamuna My expat clients love your teaching stories! And In culturamamagazine too we had a similar story of matching like Atul, dear Jamuna. It was a Briton and a Brazilian working in India in the leather business. can we talk on the phone sometime please? Ranjini Manian
by:
Ranjini manian
Subject:
A Life Positive love story
- 29 March 2013
A very inspiring story Jamuna! Thanks for sharing it! Life Positive has the power to do this and more! We love you LP!
by:
Anuradha Iyer
jamuna Rangachari replies: -29 March 2013
Thanks, Anuradha...