Love - Daring to love
by Punya Srivastava
All the world loves a lover. And all the world loves a love story. Punya Srivastava examines the great love stories of the world to discover the secret of their enduring worth

Download PDF Format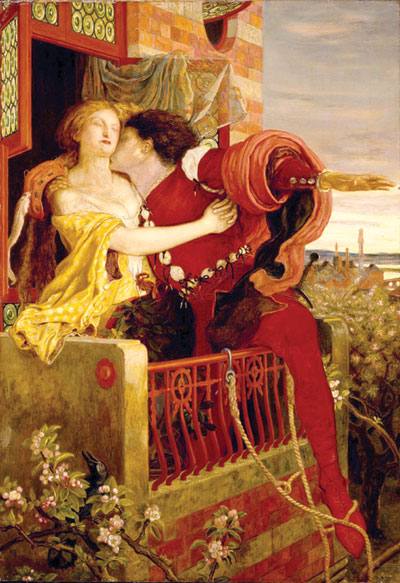 Romeo and Juliet: A powerful testimony to the call of love "The minute I heard my first love story,

I started looking for you, not knowing

How blind that was

Lovers don't finally meet somewhere.

They're in each other all along."

-Rumi

Love is eternal and so are love stories. Every being in this universe has a love story of its own as love binds all. But when we talk of the world's greatest love stories, it is the romantic love that takes centrestage, celebrated as it is in a multitude of sagas across time.

There have been many love stories since creation; some faded with passing years while some shone eternal. Be it mythology, history, fiction or folklore, each genre glitters with legendary tales of love. And these sagas of love find resonance with people even today. People remember and recall these tales of love not because they ended tragically and the lovers obtained martyrdom, or because it makes a good story. People remember these stories because they reaffirm and validate their faith in the power of love. What makes two people, and the love between them, stand apart from the rest? What makes their love story a legend? What makes these stories timeless?

Whether platonic or passionate, love and its stories remind us of our innate capacity to love. To love not in spurts and dashes, but steadfastly, magnificently, for all time. Love stories are also symbolic of the Hero's Journey, our common quest for transcendence and transformation. All love stories require their protagonists to choose love, no matter how impractical, unwise or dangerous the choice may be. Tragedy may follow closely in its wake (for almost all of the great love stories end in death) but not one of the protagonists flinch from their choice. None of them go running back to Mummy and Daddy and settle for a safe arranged marriage. In the course of that love, almost all have to contend with social censure, familial turbulence, and the very play of destiny. In the process, each has to let go of the comfort of societal conformity and take a stand for who they are. Love gives them strength, courage, endurance, and heroism. Love makes them the best they can be. For those of us trying to balance the call of love with the prudence of wanting a comfortable bank balance and social status, these stories remind us that what is most practical may not be the highest choice. And that love with its magic, mystery and powerful capacity to transform, will only come to those who dare to love.

Be it the mythological tale of Radha-Krishna or Savitri and Satyavan; be it the classic play of Romeo-Juliet or the modern tale of Jane Eyre and Rochester; be it the folklore of Laila-Majnu or Heer-Ranjha; or the historical love saga of Cleopatra and Mark Antony, we see these themes repeated time and again.

Radha-Krishna are the physical embodiments of two qualities of one entity. They are inseparable from each other just like heart and heartbeat are. They are intrinsically one and appear as two to manifest the quality of pure, transcendental love. In their divine pastime on earth, they never had a 'forever' with each other yet they were always with each other. The fact that they couldn't be together didn't diminish their love. If taken out of mythology and their godly status, Radha-Krishna's would still be one of the greatest love stories ever. There were no expectations from each other and this is what selfless love is all about. According to popular folklore, Radha was married to someone else and Krishna had his kingly duties to fulfil. They were never together after he left, but both of them belonged to each other and they knew it. Thus, instead of moping about separation, both went about fulfilling their duties to the world, carrying each other in their minds and hearts. Their love was a part of their being, not a mere emotion which could be manipulated by the forces outside. Isn't this the purest form of love; a love so tranquil, so pure that it transcends the very notion of selfless love?

When it comes to fiction perhaps no love story has captured the popular imagination as much as William Shakespeare's Romeo and Juliet. The story of two beautiful star-crossed teenagers, whose love is thwarted by all around them, is heart-rending and yet lofty. Belonging to rival feudal families entrenched in animosity, Romeo and Juliet fell in love at the first sight, got married hastily, risked their lives to be together but tragedy foiled them.

Through the play we see the transformation that love brings to each of them. From an infatuated youth, Romeo transforms into a passionate, steady young man, whose whole heart is offered to Juliet. Juliet too, matures into a devoted and determined young woman, whose last act on the death of Romeo is to plunge a dagger into her own heart. What are we to make of this ending? Is Juliet's death defeatism, or is it the pinnacle of true love? Perhaps from a spiritual perspective Juliet could have lived on and transcended the love, but from the perspective of a love story her death is inevitable, reflecting an unwillingness to compromise in love, preferring instead to follow her beloved to death.

Eventually, the sacrifice of these young lives is redemptive. For it brings together their two families and ends the deadly fuel that claimed many lives, As they say, in the end, only love prevails.

Pining in love is inevitable. But what if the wait never ends, or takes eternity to end? In Homer's Odyssey, Odysseus and Penelope are separated for around 20 years, just after a few years of their marriage. What follows is a cruel game of fate where Odysseus, king of Ithaca, braves a war, dangerous enemies, curses from various gods and advances from a number of maidens; still holding onto his love for his wife. On the other hand, Penelope had to look after the kingdom, their son, as well as hold at bay a multitude of suitors who hounded her day and night. But steadfast in their love and loyalty towards each other, the couple eventually meets. Theirs is a tale of love seeped with so much loyalty and mutual trust that not once does either of them question the futility of their wait. Their love stood the test of time in each and every aspect. It was love which helped Odysseus sail through a massive war; find his way through bizarre lands and deflect the charms of some of the most beautiful women. It was love which urged Penelope to wait endlessly for her husband, hoping each day would be the day of his return. They both could have led a different life, saved themselves heart aches and the agony of eternal wait, but then, that wouldn't have been love.

The Indian subcontinent too resounds with love sagas, many of them doomed. Sohni-Mahiwal's tragic tale of love, a popular folklore from the Sindh province, depicts the turmoil of two young people in love and the miseries they face due to societal pressure. It shows how a youth of comfort renounces his materialistic life just to be able to steal some moments of togetherness with his love. It shows how a shy and demure girl turns into a woman of unmatched courage when she braves the ruthless current of a thundering river, with only an earthen pot to cling upon, to meet her love. It is a story where love conquers all; a story where Sohni and Mahiwal's love becomes their strength; a story where a promise is honoured with life. It was that warm and giving love which turned the son of a rich merchant into a faqir (hermit), relinquishing his all just to roam around and be in the land of his lover, forever.

On similar lines is the legendary love story of Laila-Majnu. A man's eternal quest for his love that is beyond his reach, this tale from Arabic literature is an allegory for the soul seeking union with the Supreme. In another version of this folklore, Laila and Majnu are two childhood sweethearts, who are separated by force, seeking each other as long as they lived as they were destined to, only to die together, miles away from each other. Young Qays' obsession for Laila earned him the tag of 'Majnu' or the madman. His was a devotion so strong, so selfless that nothing compared before it; a love so arduous that every comfort paled before it. Their connection was so tangible that Laila dropped dead miles away in her husband's palace as Majnu was slashed to death.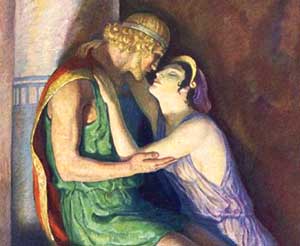 Odysseus and Penelope: A love that lasts Charlotte Bronte's story of Jane Eyre and Edward Rochester is one of those few happy endings where the lovers walk into the sunset hand in hand. They too have to brave many impediments and hurdles. Yet like all true lovers, their love does not falter and they continue to love each other passionately and devotedly in separation, until a benevolent destiny re-unites them. Their love and their character is tested many times and it is only until when both pass these tests that they are permitted to win the ultimate prize of coming together.

In direct contrast to these lovers are Emily Bronte's protagonists from Wuthering Heights, Catherine and Heathcliff. Their relationship is a whirlwind of paradoxes as both the characters, are flawed characters. In love with Heathcliff, her childhood sweetheart, Catherine goes on to marry Edgar to help the former gain a standing in life using her status as Edgar's wife. Her love, though it may appear selfish, seeks only the welfare of Heathcliff. They separate, only to meet a few months later in life as estranged lovers, betrothed to other people. Love is still there, coupled with unbridled passion. They both believe that they have their being in the other. Time and again they express the desire to transcend the physical and be one with the other. And this is what defines their relationship. A love so powerful that the lovers yearn to merge into each other, to dissolve into each other so seamlessly that the world cannot separate one from the other. Their yearning is so strong, so uncontainable that it spurts out as acts of self-destruction and the destruction of many lives around them. Yet, their love is their life force, an essence which carries them through a life caged.

These eternal love stories revolve around people who gave up their all in love and got immortalised as legends. Most of these stories ended with death or separation but the lingering emotion is that love still prevailed. It didn't die with the death of the mortal body. It remained timeless.

See more articles on Love : http://www.lifepositive.com/Articles/Love

Reader's Comments


Subject: If Love is a power energy... - 1 September 2013
Good one... But if love is a power energy then why it not reaches to the GOD? Why they are separated? Why they have to do what they do not like? There are some many question ... I think it is only a Chat... Thanks
by: Santosh Jha

Subject: Daring to love - 30 March 2013
Very nicely written, Punya! These eternal love stories are indeed heart warming and not different from Universal love.
by: Anuradha Iyer