Love - From fear to love
by Chitra Jha
Spiritual teachers tell us that there are only two primary emotions, fear and love, and everything else is only a reflection of them. So how do we transmute fear to love, asks Chitra Jha

Download PDF Format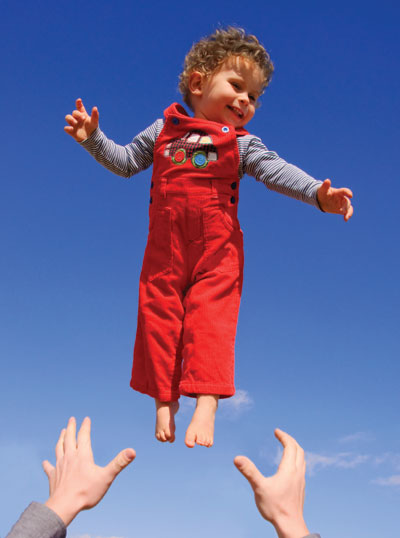 The other day as I read the news about a massive increase in the number of applications for licenses of guns by women, a chill ran through my spine. What was happening to my country? Haven't we learnt enough lessons from overseas, where in recent times young adults have gone about killing innocent schoolchildren, just because they had the use of licensed guns? It is not as if the gun culture is new to India; my own home state (Punjab) is infamous for unlicensed guns. Killing for various reasons, especially for honour, is no novelty either. This news item made me remember my family's long car drives from one city to another, on transfer, when my husband would carry his licensed pistol with him, just in case it was needed on the highways. "One never knows," he would say, and I would get so fearful that I wouldn't even want to touch it or look at it. I never ever told the children that we possessed a pistol, let alone were carrying it with us!

Suddenly it occurred to me that I was afraid of guns. I wondered of what else I was afraid. As I sat down and listed my fears, it made a tidy list! While I had overcome the biggies such as the fear of death, and had never feared ghosts, darkness, cockroaches, spiders, or snakes, I was still fearful of unpleasantness, anger, violence, drunkenness, being robbed, lewd behaviour, loudness in any form, loss of face, not being able to walk my talk, and putting on weight.

None of us is completely free of fears. There is an entire spectrum of emotions and feelings, which look like our usual reactions and responses, but when we dig deep into them we find one or the other fear lurking underneath. All our negative thoughts and feelings are nothing more than different shades of fear, which create anxiety, worry, tension, stress, and panic attacks.

I can't list all the fears, nor am I aware of all the fears that assail people, but I know for sure that we all live in a fear-based society. Every sphere of our life right from birth to death is steeped in fear. As children, we fear our parents, as our parents fear for our health, our well-being, our future, and us. During school years, we fear our teachers, as they fear not finishing the syllabus on time, or not achieving the required results. During working years, we fear our superiors and work. We work because of what would happen if we didn't. In old age, we fear our children, and don't voice our opinions, and concerns for the fear of rebuke. We fear diseases, financial losses, thefts, robberies, rapes, murders, police, and legal hassles. We fear missing our flights, trains, and buses. We fear the fog, the rain, the puddles, the potholes, the sun, mosquitoes, flies, and pesticides. You name anything and there is an accompanying fear. Nothing that we do is devoid of this underlying fear. A fear-consciousness dominates in our homes and our public spaces, making me wonder if our society is progressing or regressing.

My soldier husband says, "We don't know which came first. Whether we attract situations that create fear because we think fearful thoughts, or we are fearful because there is a real reason to be afraid. After all, fear does make us cautious and finetunes our survival skills."

There is no doubt that a certain amount of fear does make us cautious and discriminatory, but living under a continuous shadow of fears does more harm than good. In fact, most of our pain and suffering originates from our own fear-based thoughts, thoughts that we are not even aware of sometimes. These fearful thoughts cause sickness, mistrust, sadness, and wars, making relationships fall apart, making us forget what love truly means, and holding us back from achieving our highest potential.

Delhi-based spiritual healer, Nita Mehta, adds, "Our fears tend to get stored in our kidneys and cause stone formation. Most other diseases too are caused by fears; for example, fear of the soul's own power, fear of success as a woman, and fear of sexual energy may cause breast/cervical cancer."

Even though most of us know that fear causes all our ills, what do we do to overcome our fears? Isn't it time to release ourselves from the vicious cycle of fearing and attracting more to fear? However, in order to face a fear, we first need to understand it.

Someone had once told me that fear is nothing but "False Evidence Appearing Real." Mumbai-based spiritual teacher, Divyaa Kummar, adds to it by saying, "Fear has no reality other than separation from and ignorance of Self or Source. As ignorance diminishes, as separation dissolves, as we increasingly become one with our authentic nature, which is love, there is automatically less and less of fear, and its various manifestations of lack, loneliness, and powerlessness, everything which the world labels as negative."

Ah, so the solution lies in being who we really are, while in love. All our spiritual teachers and scriptures teach us the power of love. We are told that we are embodiments of love. Why don't we feel that way naturally and automatically? Why do we doubt ourselves?

As I mulled over this question, the clarity dawned. We remain steeped in fears because we doubt. Moreover, we doubt everything. We doubt our parents, our spouse, our children, our institutions, our government, our God, and ourselves. In other words, we don't trust enough. Jesus of Nazareth had said, "If you have faith as small as a mustard seed, you can say to the mountain be moved from this place to that, and it will be moved. Nothing will be impossible to you." That is the key, The philosopher's stone to transmute fear into love.

What is the love about which I am talking? Is it the mushy emotion we feel, when we are attracted to someone physically and emotionally? Is it what makes our screen stars dance around the trees?

Just as fear carries an entire spectrum of negative emotions and thoughts, love encompasses a spectrum of positive emotions, thoughts, values and virtues, which include respect, concern, sincerity, attention, the ability to listen, the ability to say yes, the ability to say no, and the ability to say 'no, not now, later.' Metaphysical teacher Dr. Newton Kondaveti emphasises, "Love is the energy of re-birth, renewal, resurrection, reincarnation, and transfiguration. It liberates and frees us. It ignites the spark of love in all others who come near our personal energy field, which is a moment-to-moment energy signature at which we vibrate. It contracts or expands depending upon our focus. If our energy field is expanded, fear-based emotions will not enter that field, but if it is contracted then love-based qualities, such as generosity, kindness, and trust will not flow through us."

When I discussed this contraction and expansion of personal energy field with my friend, the executive editor of New Woman, Archana Pai Kulkarni, and an ardent devotee of Sri Sri Ravi Shankar, she added, "Guruji has told us to observe the sensations in our bodies, whenever we experience a rush of emotions, both positive and negative. Once, I was in an extremely crowded train; so crowded that I felt highly suffocated. There was just no way to get out of the compartment and I felt panic rise and my body tremble. The only way to combat my fear was to close my eyes, focus on my breath, and pay attention to what was happening in my body. As I did so, within minutes, I felt calmer, my breathing found its natural rhythm, my body stopped shaking, and I could continue with my journey without fear. In fact, there was a spontaneous flow of peace and acceptance. Whenever I feel love and tenderness, I sense an expansion and lightness of being; and whenever I feel even a twinge of envy, I feel my body contracting." Anuja Nair, a Trivandrum-based healer, says, "As humans we are on a journey to overcome fear and open up to love consciousness, which promotes harmony and unity in the world. However, changing the world starts with changing ourselves. The idea is to be in full command of the entire human experience, with love as our guiding force. We can quickly alter a relationship from adversarial to peaceful, and heal all our afflictions, when we release all the fears that we hold. I have personally seen this occur. Fear leaves, healing occurs and love is restored." Bangalore-based restaurateur, Susheel Nair, adds, "Finally, faith in the spirituality of life makes love possible. It is there that we find the peace of mind that usually eludes us. The more we integrate our fears, the more grounded we become, like calm and reassuring rocks that others can depend upon."

In his book, Why is God laughing, spiritual author Deepak Chopra writes, "Moving from fear to fearlessness requires a shift in orientation, because we live in a climate of fear. To counter this, you must look to your own inner guidance. Realise that what makes you safe is a higher intelligence that resides within you. Potential dangers are illusions. Only what lies at hand is real." How do we access the higher intelligence that resides within us in moments of fear? My sister Pratibha answers that. She says, "Whenever I feel afraid of something, I immediately remember Satya Sai Baba's words, 'Why fear when I am near?' I am not a Sai devotee or something, but these words remind me that as long as there is the light of spirit within me, there is no need to be afraid. Then I ask myself, what is the worst that may happen in such conditions? 'Zyada se zyada kya ho jayega?' This question puts my fear into perspective and I immediately calm down." When I shared this simple technique with another friend, she said, "Reciting of Hanuman Chalisa is nothing more than remembering that God is always within us. Just this reminder is enough to help us release our fears." However, releasing our fears is one thing, transmuting them into love is another. Moreover, the recent news reminds us that there is a tremendous need for love upon our Earth.

For me that transmutation happens through a simple process. First of all, I acknowledge my fear and accept it as an energy that I am accessing in a given moment. This simple step shifts the energy a bit. Then I ask myself, "Do I trust enough to surrender this fear to the Universe? If I need a certain situation to happen for my growth and evolution, it will come to me, if I don't need it, it won't, simple." These words invariably fill me with faith in the infallible wisdom and fairness present in the working of the Universe. Finally, I tell myself, "It is okay to be fearful. It is okay to feel the way I am feeling. After all, I am just a work in progress. I accept myself along with my fears." I have seen that the moment I acknowledge my vulnerability and feel okay with it, love wells up, love for myself, the situation, others who may be involved in it, and the Universe, Father-Mother God. When I discussed all this with my husband, he said, "Being fearful or loving are natural states of being. If you are being 'authentic', you will be comfortable with both these states. Father-Mother-God loves us with all our moods. Let us love all our moods as well."

As I mull upon his words, I ask myself, "Can it get simpler than that?" The answer lies in acceptance, and that is what love is. Love is nothing but complete acceptance of all that is (and isn't); including our fears.

See more articles on Love : http://www.lifepositive.com/Articles/Love

Reader's Comments
Subject:
then what is relation between God and love
- 31 August 2013
Hi Sir, I am in love but u know no body even God is not with us ...... so I thought to make some think special ......as my friend was coming to my home...... That day I got a chat that my love,s mother has found a boy accoding to hi m is great....... no body cares about our love we use to cry
More...
by:
santosh jha
Chitra Jha replies: -1 September 2013
Santosh, love is God and God is love...even if you do not marry the one you love; you can still love her. Marriage is not the only destination for love. In fact, there are many instances where marriage destroys love....Have faith in almighty and His ways. Whatever happens happens for our best; even though it may not seem so, in the short term! Let go and Let God!
Subject:
From fear to love
- 30 March 2013
Very nice article Chitra! Thank you for the simple suggestions to overcome our fears.They are very useful for everyone! Lots of love.
by:
Anuradha Iyer
Chitra Jha replies: -1 April 2013
Love you, Anuradha..:)