Love - Love changes
by Shivi Verma
For a planet in deep evolutionary crisis, no medicine can be as effective and as reviving as the potion of love, says Shivi Verma

Download PDF Format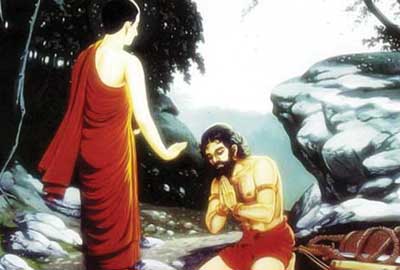 From sinner to saint: the story of the Buddha and Angulimala One of the most abiding pictures of the transforming power of love is the incident of bandit Angulimala forsaking his evil ways after coming in contact with the Budhha, the enlightened one. As the story goes, when the demonic Angulimala on seeing the Budhha in the forest, chased him in order to kill him and chop his fingers, he could not catch him even though he ran while the Budhha simply walked. When the Budhha turned to confront him, his saintly personage, serenity, and vibes of pure unconditional love for his aggressor, had a miraculous effect on Angulimala. He surrendered to him, gave up violence and became a monk of the highest order in the sangha.

How does love work its transforming magic? There is a small story that explains this lucidly. Once there was a competition between the sun and the wind to determine who was stronger. They spotted a man wearing a heavy overcoat and walking along the road. The wind used all its power and blew harder and harder to snatch the coat away from that man, but the harder it exerted itself, the more tightly he clung to his coat. Finally the wind gave up. Now it was time for the sun to show its prowess.
| | | |
| --- | --- | --- |
| | | |
| | Love gives us the space to look within and through its nourishment, we develop the strength to change ourselves. | |
| | | |
The sun did not try to force itself on the man. It only increased its warmth. As the warmth grew the man began to perspire. After sometime, he himself removed his coat. That is the nature of love. Instead of forcing change by criticising and upbraiding as most of us do, it simply accepts, and in its life-giving warmth, we relax. Love gives us the space to look within and through its nourishment, we develop the strength to change ourselves.
Mata Amritanandmayi of Kerala is the living embodiment of this pure unconditional love. She does not discriminate between a saint or a sinner while embracing people. Her divine hug is open for all, and many have witnessed a transformation on receiving it. Dr Muhammad Sali belonged to a well-to-do family but was a slave of his bad habits. He drank like a fish, and smoked like a chimney and was unable to throw off these vices despite many attempts by him and his family members. In 1995, Amma came to Pune. A friend told Sali about her and advised him to meet her. As he stood in line to be hugged by her, a thought entered his mind that Amma would never accept a lowdown like him. Instead, when his turn came Amma hugged him in a tight embrace and whispered in his ears, "Little thief, I know you are in pain. Amma is with you. Do not lose heart." These words acted like medicine for him. Sali began to weep like a child. Gradually, as his faith in himself increased due to Amma's love, he was able to kick off all his bad habits. Today, he and his family swear by Amma's love and have become her followers.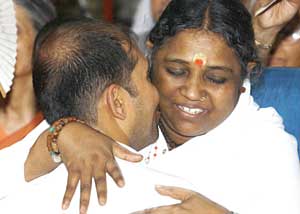 Mata Amritanandamayi: Her divine hugs have transformed many lives
This also reminds me of a young lad of 16 who I happened to meet in Lucknow almost a decade ago. He was the nephew of an uncle living in a joint family, whom I had gone to live with for some time. The subject of constant condemnation and incorrigible as a colt, he was a nuisance to have around. Irreverent, boorish and insolent, he derived a fiendish pleasure in annoying people. I caught his eyes too. I ignored his pranks which provoked him to greater heights. He burst crackers within my close range, squeezed my hand too tight under the pretext of joking, billowed fumes of the chula in my face and so on.
I prayed hard to God to not let me down. I did not want to react, to announce his victory over me. Somehow God helped. I sailed through without quailing even once. My tenacity began to trouble him, and often I saw him looking awkwardly at me. One day as I stood in the kitchen cooking, he entered with a book in hand, took his seat at the dining table and began to speak of music. I saw the opportunity, and took the subject even deeper.
Contrary to his perception of me as an ice maiden, I turned out to be a compassionate elder sister, who had no rebuke for his unruly ways. He opened up and shared some of his innermost thoughts. Gradually, that young boy began to talk of his observation of those around him with amazing accuracy. He could tell the qualities and shortcomings of people with an impartiality, free of malice. He divulged that despite being ridiculed he continued to relate to every one. With the veneer having fallen away, the truth stood clear as a crystal. The boy wanted love and acceptance but the fear of getting hurt made him behave the way he did. His whole family was caught in the spiral of angry retaliation, doubt and mistrust. With patient hearing and an acknowledgement of his vulnerable, sincere side, his trickery vanished. He began to look for me in all situations, sharing his aspirations, dreams, crushes, doubts and thoughts. One day he asked me, "Didi, what is your favourite colour?" I said, "Peach." Early next morning he was at my door, holding a crushed, sorry looking, yet a peach coloured rose. When others taunted him. he purchased roses for them too. When the time came for me to return. he wept copious tears. Years later, when he passed college and got his first job, he gave me a call to tell of his achievement. The black sheep of the family was now an achiever.
Similarly if I have been able to overcome the punches and kicks of life it has all been due to the unflinching support of my father and the unceasing love of my mother. Almost all of us who are smiling and successful today can happily attribute it to the love of somebody who stood by us and believed in us, even when the tides were unfavourable and the world taunted us.
Asha Uberoy, a teacher from Gurgaon, recounts an inspiring incident of her life, "I was very young when I started teaching in a junior school to earn some pocket money. I was very nervous on the first day I entered class. Fourth class children can be very intimidating! One boy was particularly naughty, rude and disobedient. He was also shabbily dressed and bad in studies. I was too naive to deal with him strictly. Instead of punishing him, I reached out to him with love. Soon he was following me around like a little lamb. He started doing his homework and wearing clean clothes. Later, I came to know that his mother had died early and he was a difficult child. The change in him was amazing. He even passed with good marks. Next year I moved on and lost touch with the school. Ten years passed. One day I was walking along the road when a handsome young man crossed over and greeted me with a salute. 'Remember me, Maa'm? I am Krishna.' He had joined the Air Force as a pilot. How a little affection from a teacher had changed his life."
Shivani Bachan from New Delhi, suffered from bipolar disorder, a broken marriage and a shattered self-esteem. A friend recommended her to take up the Budhhist practice of Soka Gakkai. Her life changed after that. She says, "The love I received from my Buddhist prayer community and the sheer power of the practice changed my life 360 degrees. The love of the sangha is unconditional, divine, pure and so aware. The force of that love healed a life-long illness of bipolar disorder in me. It changed me from being a timid person to someone with unlimited self-esteem. From a divorcee I mutated into an elegant, beautiful woman."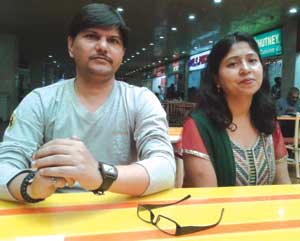 Anil Bhaskar with better half Mamta: She made him stronger
Anil Bhaskar, editor of a prominent Hindi daily, Hindustan, attributes his ability to withstand the many challenges of life to the unflinching love and support of his wife Mamta. He says, "I used to be an acutely emotional person who would break down easily. Mamta always tried to make me believe that it is God who puts tough lessons before us to solve and thus earn strength. Once I was posted in a very remote area, with no intellectual company so necessary for an editor. I was disheartened and decided to quit but she persuaded me to accept the challenge. People who oppose love marriages should come and see us. After almost two decades of marriage we still live for each other." Partners who focus more on giving rather than taking can have immeasurable impact on each other's life.
Often we become the beneficiary of transformational love only when we have worked on ourselves. Rahul Yogi Deveshwar, a poet living in New Delhi, says. "I had been ongoingly giving love, but no one seemed to reciprocate. It broke my heart. Then someone pointed out that my problem was that I had huge expectations of receiving love. Gradually I began to work on my expectation while continuing to give love. Then I met someone. She showered love on me. I felt the shift taking place within me. Earlier, I was short-tempered, a chain smoker, drinker and an escapist ... now I am a teetotaller, I only had two glasses of red wine on my birthday, my temper has vanished, and I love to live in my house and decorate it to make myself happy."
Perhaps no one loves as unconditionally as children do. Which explains why so many people feel a difference in their lives when children enter. Children give love and trust, and reciprocate without a hint of doubt or a propensity for self-preservation. Therefore what the human heart seeks they are able to supply in huge abundance.
Says, Mallika Sastry Chandrasekhar from Kolkata, "After I promised to gift myself the skill of learning to love myself on my 40th birthday, I received unlimited love from everyone around me, but the most significant and the most intense was from my daughter. Her love, it seems to me, is a reward from the Universe for keeping the promise to myself. It is a love I cannot describe in words, but a warm feeling spreads over my insides whenever I acknowledge it. It has not only changed my world, but changed me. It has taught me to become a better person, and to love fearlessly as well. The paradigm of my world shifted significantly after she came in my life, but it was her love that allowed me to find myself in the first place."
Over time, Shanu Goyal's married life ceased to offer satisfaction. She yearned to be appreciated and heard. Just then the love of her little son came to her rescue. What she was unable to get from her husband her son recompensed in full measure. "Whenever I wear a new dress he immediately notices and gives his suggestions. He's a patient listener. He feels a sense of pride in the healing work I do and makes me feel important. My emptiness is now no more," she says with a glint in her eyes.
Love heals, love mends, love repairs and love renews the wounded and shrivelled spirits of the struggling, falling souls of the world. No amount of skill, knowledge or preaching can transform a human being unless it is also accompanied by unconditional love. Thank God for love!
See more articles on Love :
http://www.lifepositive.com/Articles/Love
Reader's Comments


Subject: Love changes - 29 March 2013
Beautiful article Shivi Verma! Thanks for sharing so much!
by: Anuradha Iyer