Love - Love thy neighbour
Jamuna Rangachari profiles the great benefactors of mankind whose overflowing love inspired them to selfless service that brought about deep and lasting social change

Download PDF Format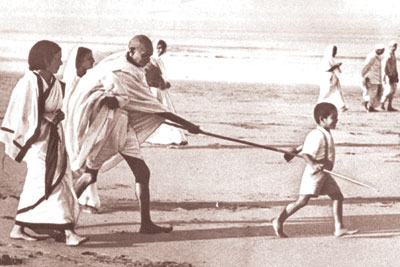 Almost all great initiatives and movements that have benefited mankind have been motivated by love. Even religions, which later may get stifled and destroyed by the need for power and control, owed their origin to the pure love their founders had for mankind. It cannot be otherwise. The more we discover God, the closer we get to his Creation. The more love flows into our heart, the more motivated we are to serve not just humanity, but all Existence. The annals of human history are rife with those who have consecrated their lives to selfless service and in the process, injected huge stores of goodness and greatness into the world. Here, we applaud some of our most outstanding practitioners of the power of love.

Love has power

How can we not remember Mahatma Gandhi (1869-1948) today? In all his actions, Gandhiji was motivated to serve the poorest and humblest, and to achieve all goals including the Independence of the country, through the use of soul force. His definition of soul force was to have the power to contain the wrong-doing of the world internally and to return only good for it. It enabled even the lowest of his countrymen to suffer the blows and bullets of the British with neither retaliation nor retreat.
| | | |
| --- | --- | --- |
| | | |
| | In Gandhi's hands, love became a powerful tool of social, economic and political change, and his legacy continues to inspire millions. | |
| | | |
In Gandhi's hands, love became a powerful tool of social, economic and political change. He has inspired many others such as Martin Luther King, Nelson Mandela and Aung San Suu Kui to follow in his wake and attain their goals through non-violence and love. His powerful legacy continues to inspire and motivate millions of people around the world, despite the crescendo of violence, disparity and hatred playing out in the world today. Who can doubt that eventually the whole world itself will rise to the glory of Gandhian thinking, and operate through the pure power of love and truth?
Another powerful example of love in action is the case of the venerable St Francis of Assisi (1181-1226) who, it is said, was unsurpassed in his commitment to imitate the life and carry out the work of Christ in Christ's own way. What made him unique is that he served the poor, the lepers, and the birds and animals, out of an overweening love for God and His creation. He called all creatures his brothers and sisters, including 'Brother Sun' and 'Sister Moon'. He has often preached to the birds, who clustered around unafraid and listened to his words. It is said that he even once convinced a wolf to stop preying on the townspeople and their flocks in exchange for being fed regularly by them. His famous prayer which begins, 'Lord, make me an instrument of your peace, Where there is hatred, let me sow love' is a testimony to his unconditional desire to give. He too, stands out as an eternal light for all those looking for inspiration to love and serve.
Love, the origin of great movements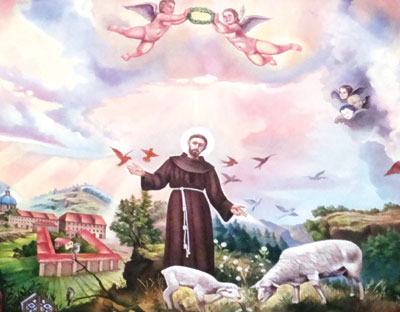 St Francis of Assissi: Loving God by loving his creation
Back in 1973, distraught at the violence and poverty around,
Vinoba Bhave
(1895-1982), the great humanitarian and staunch follower of Mahatma Gandhi, left his ashram in Pavnar to see how he could help the landless people in India. First, he chose to go to one of the most poverty-stricken and afflicted zones, Pochampally, a village in Telangana. When he asked people if they could help the landless, his love for them inspired them to love each other and thus was born a movement called Bhoodan —'land-gift.' Thousands spontaneously gave away vast tracts of land to the landless. "We do not aim at doing mere acts of kindness, but at creating a kingdom of kindness," Vinoba Bhave used to say. Bhoodan did not succeed as much as Vinoba may have wished, but that it succeeded at all is testimony to the nobility of the human spirit, which can be inspired by apostles and great souls to rise above venality and selfishness and come to the aid of their fellow human beings.
When Mother Teresa (1910-1997) came to India, she realised that in a country like India, service to people who needed it most was what was required. When she saw a woman dying on the street, she founded the Missionaries of Charity, which in 2012 consisted of over 4,500 sisters and is active in 133 countries. Her name and that of her Mission is synonymous with selfless service given to the poorest of the poor, and which aimed to give all, the living and the dying, the dignity they are entitled to. The Missionaries of Charity at the time of her death had 610 missions in 123 countries including hospices and homes for people with HIV/AIDS, leprosy and tuberculosis; soup kitchens; children's and family counselling programmes; orphanages; and schools. For over 45 years, she ministered to the poor, sick, orphaned, and dying, while guiding the Missionaries of Charity's expansion, first throughout India and then in other countries. Until today, the sisters continue her mission.
Love, the bond
Baba Amte (1914-2008), one of India's most respected social and moral leaders, spent most of his life for the care and rehabilitation of leprosy patients. Despite being born into a life of privilege, a chance encounter with a leper powerfully affected him and changed the course of his life. His community of a few thousand patients at Anandvan has done much to dispel prejudice against the victims of leprosy, and is continuing to do so. A staunch Gandhian, he abided by the Gandhian vision of self-sufficiency at the village level and brought it into effect in his own work and community. His two sons, Anand and Prakash, both doctors, have continued to serve society in the wake of their father.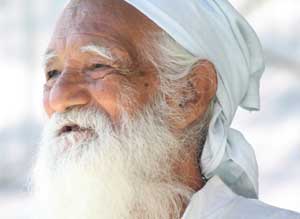 Sunderlal Bahuguna: Awakening the country towards love for nature
In 1990, Baba left Anandvan with the words, "I am leaving to live along the Narmada, and Narmada will linger on the lips of the nation as a symbol of all struggles against social injustice."
I, for one, certainly paid more attention to the struggle after knowing Baba Amte felt it was injustice. It had, of course, been pointed out long back by Medha Patkar, who founded the Narmada Bachao Andolan (NBA). Until today, she remains one of its main catalysts, strategists and mobilisers, as her focus is on the people who may be dislocated and her love for them.
Similarly, Sunderlal Bahuguna wanted people to see the negative aspects of the forests being increasingly felled for commerce and industry. He inspired the Indian villagers to protect their livelihoods through the Gandhian method of satyagraha. In the 1970s and 1980s, this resistance to the destruction of forests spread throughout India and became organised, and known as the Chipko Movement. In the new millennium, Bahuguna has continued to warn about water scarcity and to campaign for the protection of the forests. He has proposed to the Prime Minister a Himalayan policy in which the mountain slopes would be covered with trees giving food (nuts, edible seeds, oil seeds, flowering trees for honey and seasonal fruits), fodder, fuel and timber, leaf fertiliser, and fibre. He has proposed that each family should be given land to grow 2000 trees and a subsidy to rear these trees.
Anna Hazare, a former soldier in the Indian army, is well known and respected for upgrading the ecology and economy of the village of Ralegan Siddhi, which is located in the drought-prone Ahmednagar district of Maharashtra state. The erstwhile barren village has metamorphosed into a unique model of rural development due to its effective water conservation methods, which made the villagers self-sufficient.
| | | |
| --- | --- | --- |
| | | |
| | Anna Hazare's work in rural development in India is unparalleled | |
| | | |
Earlier, the same village witnessed alcoholism, utter poverty, and migration to urban slums. Inspired by Hazare's unique approach of salvaging a hopeless village, the state government has implemented the `Model Village' scheme as part of its official strategy. Today, he may be better known for his anti-corruption drive. However, his work in rural development in India, inspired by love for his fellow villagers, is unparalleled and continues to inspire many.
The fledgeling
Not all who serve are destined to greatness, but there can be no question that their acts consecrate their lives and inspire thousands of others to follow suit. Even the tiniest act of kindness sets off a virtuous cycle and helps reaffirm faith in human nature.
Take the case of Narayanan Krishnan, an upcoming chef who was going to Switzerland for further studies. When he visited his hometown, Madurai, in 2002, he saw a very old man eating his own human waste for food, and decided to change the focus of his life. He founded the non-profit Akshaya Trust in 2003. Now 31, he has served more than 1.2 million meals – breakfast, lunch, and dinner – to India's homeless and destitute. "Now I have a passion and I enjoy my work," he says, happy that he is able to help the truly needy.
See more articles on Love :
http://www.lifepositive.com/Articles/Love