Love - My Son Vinayak
by Anuradha Iyer
Bringing up her son has been an ongoing odyssey of love and learning for Anuradha Iyer

Download PDF Format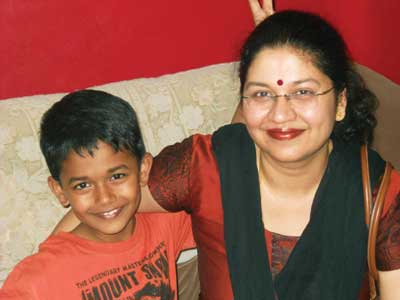 Anuradha with he son, Vinayak I am not sure when I first experienced the desire to be a mother, but it dates back so early that I do not have any recollection of a time when I did not have it. When I was a small girl, playing with dolls was my favourite pastime like any other little girl, but I would always imagine how it would be if my doll turned into a real baby. I would spend hours talking to my baby, stitching clothes for her, and even feeding her something delicious every time my mother made some goodies for me.

When I grew up and got busy with studies and then my career, I thought I had put my dream aside for a while but after I got married, the desire for motherhood came back with renewed force. Every monthly cycle I would hope I had conceived and be disappointed!

Shri Ganesha
It took a long time for this most natural event to manifest in my life. I had seen doctors, visited temples and consulted astrologers by the time I got some positive signals about it. At an aarti I attended in front of the famous Dagdu Seth Ganpati temple in Pune, I suddenly got an inspiration from the merciful Lord that I would be blessed with a son, and that he should be named after Him. The name Vinayak just popped into my head, and I took this signal very seriously.

Within a few months, I conceived. I was overcome with joy. At last, my dream of being a mother was going to become a reality. I was happy and excited, and wanted time to fly, before I could hold my little bundle of joy in my arms.

It all happened so suddenly and three weeks before my due date. I had gone for a routine check-up, and I had been uneasy after I returned. The next morning my waters broke, and I was rushing to the hospital in an auto with no labour pains. All our plans to arrange for a taxi or call a neighbour did not have to be executed. At the hospital, I was happily waiting for the pains to show up but nothing was happening. It was nothing like I had seen in the movies. I walked into the labour room smiling and in half an hour I had delivered my baby boy. I heard him cry but the doctor did not put him on my tummy for a good half-an-hour. I started to panic! Had something gone wrong? Then the doctor brought my Vinayak wrapped up in the green hospital sheets, and I held him in my arms for the first time. It was the best moment of my life. I was filled with a deep joy, undiluted, peaceful, and fulfilling. Vinayak was fair and had the cutest face, tiny hands, and feet, and hardly opened his eyes. He was the most beautiful baby I had ever seen in my life, and I loved him deeply from that moment.

The spiritual experience

I thought that conceiving a child and bringing him into the world was the most difficult battle for me. However, my battle had just begun. Every time the Lord would test me to see if I really wanted to be a mother, and be the best mother on earth, the way I had resolved to be, on the day I held little Vinayak in my arms for the first time.

Feeding him was a nightmare. One had to literally coax him and cajole him and if one bite went in by mistake, he would promptly spit it out. It would take hours to feed him. We would try feeding him indoors and outdoors, with the television on, and give him an assortment of all kinds of food, but it was always a great challenge to get some food inside his stomach. Luckily, for me, milk was his favourite, and he would drink five bottles of milk every night, very happily, without the slightest fuss. And the reason for that was that I gave it to him while he slept peacefully all through. For five years, I got up four times every night to make bottles of milk laced with the magic nutritional powder 'Pediasure'.

The other great challenge was when we put Vinayak in school. He would resist everything related with school. Starting from getting up early, to brushing his teeth, having a bath, getting into the school uniform, and reaching school on time, every activity was filled with resistance, every single day. He would cry so loud when I bathed him, that all our neighbours thought we were beating him. Vinayak threw tantrums for almost the whole year. I was so stretched that I broke down in front of his teacher when we reached late on the day of his final exam.

All through those tough days, I learnt so much that no school could have taught me. I always considered myself relatively patient but I could not have expected such a test of patience. I could not bring myself to be angry with Vinayak, no matter how much he resisted or drove me up the wall. After all, I had asked the Lord for this gift and I had waited so many years before He granted me my wish. I always thanked Him everyday, through all the challenges, and my gratitude was rewarded.

My greatest blessing

Today he is so brilliant and such a delight to be with, that I have forgotten all those difficult days. I can see him growing up into a talented, responsible, and a very loving child. He still has an independent mind, but we never push him into anything. He selects his activities, and does an excellent job of whatever he takes up. He started learning football, and he plays better than children twice his age do. He is learning to play the synthesiser, and he is playing like a professional within a few weeks. He has a gift with art and can sketch anything that catches his fancy. He is a natural at drama, elocution, and dancing. He has no stage fear whatsoever. And to top it all, he is always an A grader in his studies! I am so happy to know that he is capable of so much.

The one beautiful quality I loved learning from him was forgiveness. I am an extremely sensitive person and even one harsh word from someone can upset me for days. Though I could manage to forgive the harshness, forgetting it was out of question. The tape would keep playing in my head, totally disrupting my relationship with that person. Not Vinayak! I am amazed at his ability to completely forget any misunderstanding he has with anyone, within minutes of the event. He is extremely sensitive too, but his large-heartedness is evident because he is always the first to make up, and give the other person a hug to dispel the confusion and bring back the love, effortlessly. They say that the child is the father of man, and I have experienced that with this wonderful child.

Vinayak is the centre of my world, and I cannot imagine living a single day of my life without his dimpled smile. Some people are so close to our heart that we love them more and more with every passing day. His incessant questions and curiosity about everything, his bubbling enthusiasm for even the smallest of adventures, his wild spirit and boundless energy keep up my attraction for him alive. I hope that we as parents can do our best to shape our children's lives, and lead them to experience life the way they would like to, without interfering with their free will, and always being there to guide them and lead them to their glorious destiny.

See more articles on Love : http://www.lifepositive.com/Articles/Love

Reader's Comments
Subject:
My Son Vinayak by Dr. Anuradha lyer
- 3 September 2013
I very much enjoyed reading this well-written article, with a message from a love-strong heart and of an exceptional child. A child so brilliant that it needed the inner Light of an unconditional love to blossom. And thus for both, son and mother, the lotus petals of wisdom opened! Warmly,
More...
by:
Eva-Maria Hogrefe C. S.