Love - The flower of the ages
by Punya Srivastava
There is perhaps no concept in love as thrilling as that of a soul mate – the one person who we are meant to love and live with lifetime after lifetime. Do soul mates really exist, and if so how can we attract them, asks Punya Srivastava

Download PDF Format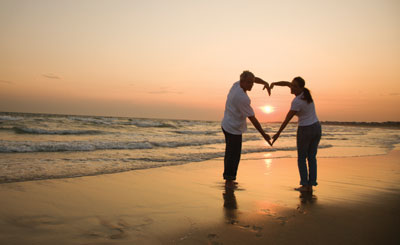 We all have grown up fantasising about that one person who will enter into our lives to complete us, fitting like that last piece of a jigsaw puzzle. Girls moon about their Prince Charming, and boys over their dream girl. A few of us get lucky enough to find that someone special, while many complete their life journey still yearning. They might have found their mates, but not their soul mates. What then, is the difference between a mate and a soul mate?

"The one who covers the distance from the other side to beside, I can say, is a soul mate," says Bhumika Thakkar, solution designer and application engineer, in addition to being a dreamer, an amateur writer and a hard-core romantic. "A soul mate is someone who can see through my eyes and read me, and know that there has been a definite reason to everything I do, irrespective of it concerning him or not. Finding your soul mate is a quest, a longing of your soul to express something that cannot be easily explained through words to all, but well understood by that one person," she further adds.

But, on a more conscious level, the term 'soul mate,' singularly describes the one who helps you evolve into a better being, who meets you on the plane of deeper consciousness, and who resonates with you the most. Many believe that soul mates are two halves of a single 'whole,' who find their way through lifetimes to achieve union. Edgar Cayce, the noted American psychic, described a soul mate as 'a complement to oneself.' His son Hugh Lynn Cayce further elaborated on his father's readings and gave his interpretation of the term, "Two souls may, in a number of incarnations, grow very close together in their pattern of spiritual evolution. These souls will need the help and assistance of each other as they evolve, and in any one incarnation, will be drawn closely together, because of their many past associations and the intricate entwining of their respective personalities." Thus, soul mates are on a constant look out for each other throughout lifetimes. They might have shared different, but close, relationships in their many lives. This affinity for the other half goes beyond whys and hows of human domain.

"Soul recognition may be immediate – a sudden feeling of familiarity, of knowing this new person in depth, far beyond what the conscious mind could know – at depths usually reserved for the most intimate family members, or even deeper than that. Intuitively knowing what to say, and how they will react. A feeling of safety and a trust far greater than could be earned in only one day or one week or one month," writes Dr. Brian Weiss in his book, Only Love Is Real.

Soul mates are people who are destined to be together, so that they can delve into deeper consciousness together, supporting, and motivating each other in their quest. Popular writer Richard Bach, famous for his spiritual fiction books like Jonathan Livingstone Seagull, Illusions, and One, defined soul mates in his bestseller, The Bridge across Forever, as "someone who has locks that fit our keys, and keys to fit our locks. When we feel safe enough to open the locks, our truest selves step out, and we can be completely and honestly who we are. We can be loved for who we are, and not for who we are pretending to be. Each unveils the best part of the other. No matter what else goes wrong around us, with that one person, we are safe in our own paradise".

"What we are actually looking for is a twin flame – the other half of our soul who may come to us after lifetimes. A twin flame will walk in after we have learnt all our lessons, and are ready to receive him or her in our lives. We will recognise him the moment we are ready for that journey with him," says Dubai-based writer, novelist, and poetess Meenu Mehrotra.

Yes, we need to be ready for that moment. We need to work upon ourselves to reach a level where acceptance comes easily to us, and where our minds are steered clear of doubts, fears and inhibitions, because the journey forward requires purity of mind and soul. People seek love outside, and get disappointed. Why? Because they are expecting someone else to fill that void, which can only be filled by themselves on their own. Therefore, we must first learn to go within, be acquainted with every nook and corner of our selves, learn to accept us as we are and be happy in our own space. Rumi had said, "Your task is not to seek for love, but merely to seek and find all the barriers within yourself that you have built against it."

When we have accepted ourselves, and love ourselves, we are capable of loving someone else wholeheartedly. Yet, not everyone finds his or her soul mate. Some are just not destined to travel that road. This in no way means that our life renders incomplete. "There is no need to feel incomplete if one does not have a conventional 'soul mate', for there is a possibility that the sole purpose of the current lifetime is not about finding a soul mate. If the soul awareness has risen beyond this understanding, it is possible that the soul mate does not appear in the form of a conventional relationship, but in a different way, to explore more, learn more; it is the choosing of the soul before taking a human form," says Anupama Dafre, a facilitator from Mumbai.

As Dafre implies, the soul mate relationship may not always be romantic in nature. Some soul mates can come in the form of siblings or children or even friends. Shares Shilpa Vasudev, a Mumbai-based writer, "I am pretty sure that my mother was my soul mate because we shared a relationship of almost perfect harmony. Even when we did not talk, there was an energy between us that nourished us both."

Then, there are many who might have found their soul mates in this lifetime, only to part ways with them in due course of time. Shocking? Indeed. How can soul mates, the ones destined together, part ways after knowing that they are meant to be together? It could well be because they have learnt whatever they needed to from each other in this lifetime. Even higher than love is the imperative of growth and sometimes further growth demands a movement away from each other. Such a parting, unlike other conventional relationships, is free of drama and embitterment. Writer Richard Bach has been a living example of this instance. His relationship with actor American actor, Leslie Parrish, which fuelled his book, A Bridge Across Forever, ended after 21 years of marriage. Bach had said, "When a marriage comes to an end, we are free to call it a failure. We're also free to call it a graduation." What follows are interviews with four couples lucky enough to have found their soul mates.

Susheel Nair and Kapila Ramakrishnan

"We are together by choice, not because we are bound by marriage," says Kapila Ramakrishnan, a past-life therapist and an animal rights activist. She, along with her husband Susheel Nair, who is also a past-life therapist as well as an entrepreneur, believes that two people may not be born as soul mates but metamorphose into soul mates, once they get to know who they themselves are.

Married for over seven years, Susheel and Kapila have known each other for the last 16 years. Those nine years of friendship helped their relationship to evolve into respect and love for each other, but the real shift happened after six-seven months of their marriage in 2005. Both had high-powered jobs in Chennai, Susheel in the corporate world, and Kapila in the advertising field, and they were hardly able to see each other during the first few months of their marriage. Then one day they met Dr. Newton Kondaveti, the renowned past-life therapist, and their lives transformed considerably. "We started understanding each other much better. I would attribute our real togetherness to a chance reading of Many Lives, Many Masters by Dr. Brian Weiss, who in turn guided us to Dr. Kondaveti. After these two instances, we both actually started believing that we had a common purpose in life – to walk together on the path of deeper consciousness," states Susheel.

Kapila says that many people marry with an expectation that their partner will make them happy. "And that is where the problems start. In our case, we do not depend on each other for being happy. We came together to learn from each other, complement each other, accept each other's attributes, absorb them, and make them a part of our individual lives," she explains. "Also, we love and accept each other as we are, without wanting to change anything; just as you do with your friends. A successful marriage is, after all, a deeper kind of friendship," adds Susheel.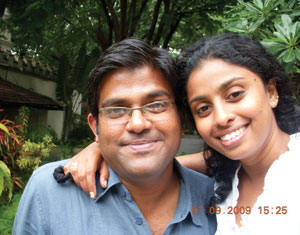 Susheel and Kapila: Bound by love They both quit their high-paying jobs in search of inner peace and satisfaction and moved to Bangalore, working in a resort amidst nature's beauty and organising spiritual workshops. After spending around four years in that place, one day in meditation, Susheel heard his inner voice asking him to quit his job. Deciding to check it with Kapila, he found her wanting to share some news with him. And voila! It was the same message she had received too! "That was the most defining moment for both of us as we took it as the confirmation of our new venture," states Susheel, adding "It has been over five months since I started my restaurant and wellness place, and we both are in a happy space, living a life much better than what it was ten years back."

Had they, perhaps shared past lives together? Kapila disclosed that they indeed shared different relationships in their past lives – friends, enemies, husband-wife, and parent-child. "Not long before, I was a clingy, needy sort of a person, insecure about my marriage. In one of our past lives I had been his mother, and had abandoned him as a child, but after having these regressions and getting to know about the root cause of my behaviour, I have healed that aspect of my life, in turn bettering my relationship with Susheel," she explains.

"We have healed many of our karmic issues and thanks to the spiritual awakening, we both have found soul mates in each other," concludes Susheel.

Neerad Trivedi and Sheetal Vaidya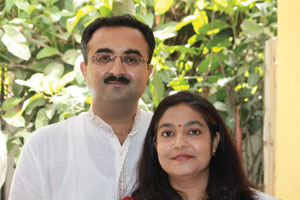 Neerad and Sheetal: Twin souls I was not surprised to find congruity in Neerad and Sheetal's words while talking to them separately, in a matter of few hours, for this story. "Neerad and I didn't get an opportunity to discuss about the topic before this conversation," said Sheetal. "You can interchange our names and still find the exact story said from my words," was what Neerad had written in his email to me prior to the conversation. Soul mates? Seems like it.

Neerad Trivedi, a cost accountant and an MBA in finance, and Sheetal Vaidya, a qualified CS with an additional degree in MBA HR, have been together for more than 11 years through thick and thin. They first met when they were six years old, being first cousins, and their next meeting was at the age of 26 years. "We met in Pune as the Universe decided that this should become our love ground. We were working in different companies and became best friends. Slowly we started rising in love and one day Neerad called me at his office for dinner and proposed to me," shares Sheetal.

Their relationship is a fairytale made in the 21st century developing India, testimony to the fact that they were married on 14 February, 2002. Every argument is finished before going to sleep. They travel together twice a year, pray and are always together. "We are so deeply connected that he thinks of something and I am doing exactly that and this has happened infinite times. I love Neerad for accepting me as I am, for being strong in weak times and for always being positive. The best thing between us is that we have never doubted each other's intention. We hold the values of trust, respect, simplicity, and honest communication, which keep us humble and grounded," says Sheetal.

The mantra that Neerad shares with the world is, "My love for her will be proved the day I can love all beings as much as I love Sheetal, and my love for her will only grow each day."

After having worked in the corporate sector for more than 12 years and at the peak of his career, Neerad got a lucrative offer to go to the USA. However, he decided to call it quits as it was time for both of them to follow their life's dream, a discovery of self. Hence, they started 'Soham' (literally meaning 'who am I' in Sanskrit), a training organisation that focuses on creating reflective workspaces based on fundamentals of love and generosity and understanding core values through experiential learning. "A soul mate is the one who helps you evolve to the deeper level of consciousness, who is your fellow traveller on the path of light. When you embark upon the search of a deeper meaning for your life, you will find many people on that plane and there will be one who would resonate with you. That is your soul mate," explains Neerad. "I believe 'har kisi ke liye koi na koi bana hai'," adds Sheetal, quoting a popular dialogue from a popular film.

Vasu Dixit and Bindhumalini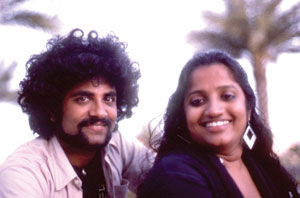 Vasu and Bindu: Each other's soul call "We resonate with each other, in ways unknown even to us." What would you call a couple who, even before they met, were being compared to each other? People used to ask her about a boy she had not heard of; a rank stranger whom the whole world knew about, save her. She used to be flummoxed, as people mistook her for a sister or close relative of the most popular boy in college. The law of attraction came into play as a wondering Bindhu finally came face to face with Vasu Dixit, two years her senior in NID, Ahmedabad. They became friends drawn by their similar interests and backgrounds – music, arts, and a sense of humour.

The journey from their courtship period to their marriage and beyond has been one of mutual harmony. "Vasu matched the fundamental principles, and ideologies which I believed in, and wanted to live by." They were married in 2009, after their first meeting in 2005. Bindhu's family took to Vasu very warmly, much to her surprise, bringing forth the affinity they have for each other's families. "I was driven by pure love. Her love towards me won me over. No one had loved me before like she did. And after three years of marriage, I can say that yes, I have found my soul mate in my wife," shares Vasu who loves to dabble in all forms of arts – acting, film-making, singing jingles for television ads apart from being a full-time member of 'Swarathma' band. He further adds, "I draw strength from her. Our souls are deeply connected and it is this connection which has helped me go within and form a bond with myself. For me, the one who guides you find this connection is your soul mate."

"I think soul mates are mirrors to each other. I realised various truths about myself. Vasu helped me pull out from my pessimistic outlook without even trying. His just being there worked wonders for me," elaborates Bindhu, a graphic designer and a full-time singer. This does not mean that this seemingly perfect couple has a smooth ride in their relationship. Like everyone else, they too have their share of arguments and disagreements, "But accepting each other as the person they are, is very important in a relationship," lets in Vasu.

Siddharth Sthalekar and Lahar Mehta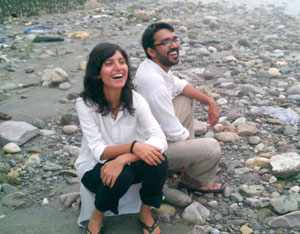 Sid and Lahar: Growing through serving each other They address each other as 'noble friends' which is their take on the term 'soul mates.' Siddharth and Lahar are one of those few couples who have found their true calling in life, that too, together. Moved by the simple joys of life which they experienced during their two-year stint in Gandhi Ashram, Ahmedabad, they started together on a journey named 'Moved By Love,' to share their experiences with many others.

After passing out from IIM-Ahmedabad, Siddharth previously worked in the capital markets, and headed India's largest equity derivatives trading desk for institutions. However, a one-day visit to Gandhi Ashram ended up changing the entire course of his life and he is now focused on, 'being the change I wish to see in the world.' Lahar is a graduate from CEPT University in Ahmedabad, where she studied interior designing. Her various interests led her through journeys of sustainable architecture, earth building, environment and ecology, crafts and preservation of folk arts. It finally rested when she realised she needed to understand her world within before looking for a suitable world outside.

The couple initially met through common friends and acquaintances but developed a real connect when both were studying in Ahmedabad. After almost five years of getting to know each other, they were married in December 2008 at Mumbai. And since then, it has been an exciting and enriching journey for both of them. According to Lahar, their definition of a relationship has changed constantly over the last couple of years of their togetherness.

"We see ourselves as noble friends walking on a path of inner transformation. As noble friends, we see it as our duty to support each other's journey by holding each other in stillness, and making each aware of their blind spots," shares Lahar. It was not an easy task. It required that they increase their self-awareness and serve the other with pure intentions. "Time has taught us that when we give unconditionally, it eventually comes back to serve us in a better way," elaborates Siddharth, adding,"Today, we see our relationship as an expression of our inner joy and beauty. For us, it is an opportunity to give unconditionally. We trust that constantly serving the other and looking out for his or her development will lead us to discover a deeper meaning of 'love' that goes beyond attraction."

Lahar added, "There have been times when one of us has fallen, or made mistakes, but we have constantly chosen to forgive and pick up each other. Over time, this has created deep and subtle ties of trust that help us keep walking. Through this trust, we find in one another the ability to learn as well as hold on in times of weakness."

"We trust that each person has the ability to seek noble friends around him or her, who helps them along their journey of inner transformation and self-awareness, adds Siddharth.

See more articles on Love : http://www.lifepositive.com/Articles/Love

Reader's Comments


Subject: Role of GOD - 9 September 2013
Hi Good article but wants to know is there any role of GOD in meeting the sole mate... as we are in love and accepted each other as our every thing but now the time come to separate as we are unable to do any thing...
by: Santosh Jha

Subject: The flower of the ages - 30 March 2013
Beautiful article Punya! Thank you.
by: Anuradha Iyer