Consciousness - The New Economy
Now that communism is dead and capitalism is on its last legs, is there a third way that can give us a humane and just economy?

Download PDF Format
Communism is dead. And with the world financial meltdown, the death knell of capitalism has sounded. What is the third way?

Economists, thinkers and politicians have long pondered over a third alternative, and have failed to come up with a satisfactory option.

But there is a third way. A dazzlingly simple and sound way. It is this: Convert the profit motive in capitalism to the service motive. We do what we do keeping the interests of the world at heart, and offer it in a spirit of service. When we do this, the two isms come together. The means of capitalism will be wedded to the ends of communism. We will be using free enterprise to ensure that the world benefits, equity is assured, and that the communistic ideal of "from each according to his ability; to each according to his need" be met. The crucial difference is that we will be doing it out of our own choice, not because a government forces us to do so.

This idea is in line with Gandhiji's trusteeship concept. The wealth we have, he suggested, could be seen as held by us in a trust, for the benefit of those who need it. We may actually see a time when the employer will earn less than the employee because his needs or even wants may be simpler. The concept of the family will also naturally be extended to all work units, so that the employer gives out what each employee requires at any given time, giving a little more to someone whose family member is hospitalised, or giving someone an increment when they get a child. The transactions are entirely transparent and everyone is in agreement with it, because everyone is concerned for the other.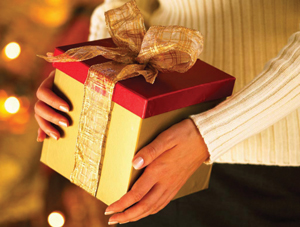 The Gift Economy shows signs of being an idea whose time has come

Service motive
How will the economy function if we work from the service element and not the profit element? Firstly, we will prioritise our activities by focusing on essential needs, starting with places where the need is most intense – among the poor, for instance. Unlike the present focus on 'upmarket' products, the focus will be on the needs of the poor. In the place of the frivolous frippery that is presently manufactured, fuelled by frenetic advertisers and marketers, future entrepreneurs may well focus on affordable housing, cheap and environmentally sound clothing, affordable and holistic education, alternative modes of energy; rain harvesting, or efforts to heal the environment. Healing would be another priority and preference would be given to self-healing and preventive techniques and tools.

In other words, social needs will be addressed without a thought for whether it will be profitable or not. Would that be foolhardy? Not for those who abide by the promptings of spirit. It is time we recognised and established as the fulcrum of all our activities the presence of the Higher Power or Divinity. It is time we acknowledged and put into practice the knowledge that each of us is guided to our destiny, and that if we stay true to our life's purpose, our lives will be taken care of. It has been proven without a shadow of doubt, that success, fame and even fortune follow those who are drawn to causes bigger than themselves. All the great leaders of the world, be they Mahatma Gandhi, the Dalai Lama or Mother Teresa stand testimony to the great potential inherent in service. In his book, Indian Wisdom for Management, Swami Someshwarananda proves that working with the service model is actually good for the bottom-line. He says, "Caring for others makes you popular, making you influential, secure and independent, which gives you power and social charisma." It follows that you will be supported in your ventures thereby guaranteeing success and profitability. Swamiji suggests that any young person looking for a career, should focus on the following three spiritual truths:

• Aham brahmasmi (I am God, or as he puts it, I have immense potential)
• Atmano moksartham jagad hitaya ca: Work must be performed for the sake of growth (liberation) and for the benefit of society
• Yajnarthat karma: work must be performed in the spirit of a yajna, which could also be called sacrifice He asks us to start off with immense faith in ourselves and work on discovering and enhancing our skills and strengths. Thirdly, we need to evaluate how we can use our talents and skills to resolve the burning needs of society. The seeds of such an economy are already being sowed. Called the Gift Economy, the idea is to offer products and services free of charge and leave it to the recipient to give what they wish to. Vipassana meditation centres are best known for practising this model and they certainly seem to thrive on it. They have recently opened their Global Pagoda at Gorai, Mumbai, a beautiful monument and a wonderful testament to the power of the service economy. Several youngsters of whom we have written about later in the issue, have also adopted this model for their entrepreneurial efforts. The Gift Economy shows signs of being an idea whose time has come, which means we will soon be revolutionising the way we do business.

Economy of scale
Because the motive is service, it follows that prices will not be inflated by greed. On the contrary, we strive for the cheapest possible price, so that the maximum number can benefit from it, thereby availing of the economy of scale. Many regional magazines, like Malayala Manorama, are successful practitioners of this model. The price of the magazine is negligible and sales are enormous, totalling to several lakhs. Almost every Malayalam-speaking family in any part of India is a reader.

Following the principle of reducing costs may actually lead us to the piquant situation where instead of inflation, we may see large-scale deflation. Imagine, if you will, getting an annual decrement rather than an increment, because prices have gone down so much that you can still manage the same standard of living at a smaller salary. The beauty of this approach is that eventually those left behind by inflation and consumerism will be able to join the economic bandwagon. They too will be able to aspire to a life of dignity, with enough for housing, clothing, food and secondary needs like education for their young.

Right livelihood
Another advantage of the service motive is that whatever we produce will be focused on the larger welfare, and therefore holistic. No product will damage any aspect of life. This means, in effect, that we will all have the privilege to earn our living through right livelihood, unlike in the present age, where almost all of us have to live with the uncomfortable thought that in one way or the other our work is damaging either the environment or society.

Can you imagine how much more motivated we will be at work, and how much more satisfaction we will get out of it? Today, the reality is that almost 90 per cent hate their jobs and it is only their pay packets and fancy holidays that compensate them. But if all of us are doing right work, we do not need huge salaries to blunt our conscience. It also follows that if we are not motivated by the profit motive, we will choose callings that resonate with our own skill, passions and missions. No longer will we see artists trapped in three-piece suits, or dancers doing an MBA degree. We will serve through our own unique gifts and talents, thereby throwing open a dazzling diversity of livelihoods out into the world.

The service motive is particularly appropriate for India. The Indian mind is emotional and seva has a strong resonance for it, for religion is the cornerstone of Indian life.

I have noticed time and again that no one works as hard as sevaks do. The efficient and orderly functioning of our spiritual ashrams are proof of the effectiveness of the service motive. At every ashram I have been to, volunteers work diligently and hard, putting in hours much longer even than the 24/7 IT sectors. The difference, though, is that all is done with joy and serenity, and stress is not even a recognised word. At the Brahma Kumaris' mission at Mount Abu, I recall seeing volunteers roll out chappati after chappati without evincing the slightest need to take a break. I recently met up with Dada Vaswani and his followers. One of them told me how little Dada sleeps. "How about you?, " I asked. "We too try our best to keep up," she said modestly. At the Oneness Ashram in Andhra Pradesh, the teachers, or dasas as they are known, are famous for never apparently going to bed. From early morning till way beyond midnight, the dasas are serving, faces wreathed in smiles.

The service motive is in our bloodstream. All we need to do is to import this spirit into the mainstream economy. By being the change we wish to see in the world.

We welcome your comments and suggestions on this article. Mail us at editor@lifepositive.net