New Age - Paradise Regained
by Life Positive
How will life in the new age be? Dr Sunny Satin, the late hypnotherapist and visionary, answers the question comprehensively. here below are fascinating excerpts from his book, incredibly believable!
The cooperative class – The Maharishi model
…take …[a] class of 100 people for one year.
…There is one simple rule:
Either the whole class passes, or the whole class fails.
That means even if one person in the class fails, all of us fail.

Now, throughout the year, each and every one of us wants to help everyone else. The students who may be having a hard time in learning and understanding the concepts are the ones that receive the most help from others.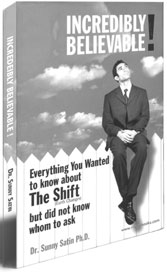 That means everyone is trying to pull everyone else up all year round!
And we all want to make sure that everyone passes.
When everyone passes, all 100 people are happy!

100 persons have felt supported and loved throughout the year, and happy for each other. There is minimal stress, and much less disease!

At the end of the year, all 100 are feeling good, looking forward to repeating this experience again!
Now, who wants to choose competition over cooperation?

Learning for Children
Young children will probably be the only ones that will have supervised learning for the first few years of their lives.

For children's education, the emphasis will be on teaching them how to be good citizens, how to behave with each other, and how to always be polite with both adults and children. Bad behavior is emotional violence, and violence in any form is not acceptable in the New World.

Children being children, they will probably behave 'badly' from time to time. When a child behaves badly in the New World, he is not reprimanded or punished for his actions. Also, he is not just told how to behave. Instead, the consequences of his bad behavior are explained to him, and he is also guided by the teacher to understand how he could have handled the situation differently.

In today's world, parents, teachers, and others normally tell the children what not to do much more than telling them what to do. Also, we punish the child for doing something 'wrong' without explaining to the child why it was wrong. The child then gets really confused in terms of how he/she is supposed to behave.

Bad behavior is never punished in the New World. Instead, good behavior is rewarded. Hence, there is a natural tendency for the child's mind to gravitate towards good behavior.

The human mind will always pick reward over punishment!

Life without Money in the New World
In the New World, there will be no such thing as money. There will be a centralized automated accounting system that will be universally accessible from every place in the world. Every person in the world will have a unique Identification (ID) card that links to the person's account. This would be the equivalent of a bank account. The account will also carry a thumbprint of the account holder.

Every place that you could think of spending money will have a thumbprint reader, and an ID card reader, similar to a credit card reader, that will connect to the centralized automated accounting system. Every time you want to buy something, all you have to do is put your thumb in the thumbprint reader, and the amount is automatically transferred from your account to the seller's account. This is similar to using a debit card today.

Now let us say you want to give your card to your daughter so she can buy things using your account. You can give her your ID card. However, to use it, she will still have to put her thumb in the thumbprint reader.

So, for every transaction, there is a complete record of who made that transaction.

Wants to steal my ID card?
Imagine John finds or steals my ID card. Before I report my ID card as stolen, John uses it to purchase something. He uses my ID card, but he still has to use his own thumbprint for that purchase. He will complete the purchase(s) without any problem.

I realize that my ID card is missing, and I report it as lost or stolen.

The central computer system marks it as lost or stolen. It instantly does a search to see if it has been used. It now finds that John has used it.

The operator from the central system phones me to inquire whether I had authorized John to use the card. I tell him I do not even know John, and did not authorize John to use it.

Immediately, the central computer marks and blocks John's thumbprint. It also transfers the amount of the unauthorized purchase(s) from my account to John's account.

That means I have not lost anything no matter how many times John used my card.

Meanwhile, John can no longer purchase anything anywhere, since his thumbprint has been blocked.

John is forced to make up for all the losses, and apologies for his behavior.

Joe and his 'Architect's Office' in the New World
As an architect, Joe is currently involved in a design project on a large industrial building where he has to work with many other persons from different disciplines. Most of these are persons that he has never met personally, and does not even know where they live, or are geographically located.

Joe found a listing for this project online, sent in his resume, had an online interview, and was accepted for the contract, which is expected to last for about 15 months.

Joe has no 'brick and mortar' office to go to for work. He works purely in a virtual environment.

Joe is not an employee of any company, has no boss, and no fixed timings for his work.

Most of the people that Joe works with, he has only met online by video conferencing.

There is a person designated as a 'Project Coordinator' for the project that Joe works on. Every few days, or everyday, if needed, the Project Coordinator assigns the tasks that Joe needs to complete, along with general timelines for each task. These are maintained in his files on a central computer system that holds all the data for this particular project.

Every day, Joe works at his own convenience. Whenever he feels like it, he accesses his list of tasks, and works on any of these online using his computer at home. Although his computer is small in size, it projects out any image on a wall and makes it as big as needed. Hence, Joe can work with any size document or drawing that he needs to. He does not need any drawing board or other instruments, since the software provided by the project computer is sufficient for handling all the required tasks.

On an average, Joe works about four hours per day. That is sufficient time for him to complete the tasks that are assigned to him. However, he has no fixed schedule times. On certain days, he may work a whole day if Nina is out teaching, and then other days, he may not work at all. He has total freedom to work in the mornings, afternoons, evenings, late nights, or not at all.

Joe gets his tasks completed on time; and that is all that is needed from him.

Whatever work Joe does, gets saved on the central computer, and everyone else working on the project has instant access to it, no matter where they happen to be geographically.

Joe has total flexibility as far as work is concerned. He could be on a beach house, a cruise ship in the middle of the ocean, or on a mountain top resort, and still get his work done, since the network accessibility is global and wireless. All he needs is his small computer that he carries with him.

Joe is a free man and can spend his days wherever and whenever he chooses to do so!

One of the best parts of the New World that Joe likes is that he never has to do any paperwork. The computer keeps track of which tasks he has completed, and automatically deposits his earnings into his 'bank account'. Since there are no taxes to be paid, there are no other forms that need to filled or filed.

Compared to his work as a government employee in the Third Dimension, Joe really enjoys this freedom from the drudgery of paperwork and form-filling!

What if I cannot Afford to Buy the House I need?
This question will never arise in the New World.

All housing will be owned by the community, and every person will be a renter. The community will also provide maintenance, and every place will always be very well maintained.

Everyone will always be provided enough resources, or money, to be able to afford the rent and all other necessary living expenses. So, there will never be a question of not having enough money for rent.

of the houses will have most of the heavy furniture provided. This makes it easy to move from one place to another.

Besides, nobody wants to lug heavy pieces of furniture around. People look at furniture as another utilitarian thing. It needs to be comfortable, but they are not attached to it. It is like the furniture in a hotel room. You want nice furniture, but you don't care when you have to move to another hotel. You know you will have different furniture there.

Major mode of Transportation
In the New World, the mode of transport will be mainly magnetically levitated trains.
These will be totally silent when operating.
There will be zero pollution created.
The trains would run on crystal power, just like all UFOs do. Crystals have the ability to focus the life force energy in the universe.
These will be totally automatic, computer-controlled, with no drivers needed.
No sleeper cars are needed, since no journey takes more than a few hours.

Control over Death
Currently, our bodies are all separate. The spiritual body, guided by the soul, decides to leave the physical body, causing our death. Due to the separation of the bodies, our physical body is not aware of the soul's decision to leave.

Once we have a totally integrated body, the brain will also be intimately involved in all decisions that the soul is making. And since the physical body can live as long as we want to use it, we can decide when we want to leave the physical body for another experience.

Hence, everyone becomes like that advanced yogi who has total control over his death.

Which Religions will Move to the New World?
The Fourth Dimension, or the New World, is at a vibrational frequency where everyone has access to a lot of knowledge about the true nature of God. As a result, everyone will go directly to the inner plane and converse with God. There will be no need for any 'agents' of God.

Hence, there are no organized religions that will survive in the New World.

Voting in the New World
In the New World of the Fourth Dimension, everyone will have constant access to technology that is connected to the equivalent of the Internet, or the World Wide Web (www).

Every issue that requires a vote can be voted on directly by the people themselves.

There will be sufficient time given for people to vote on an issue. It is not like a current vote in parliament, where it is only at a specific time, and if you are not present, you miss the opportunity to vote.

Everyone will have enough spare time, and a sense of civic responsibility, to regularly monitor the decisions that require a vote, and vote their conscience. The process will be very simple. If an issue only requires a regional vote, only people in that region will be able to look at it, and vote on it.

The result tally for all votes will be freely available to everyone at all times.

The Year 2029 – The Good Times Begin
The year 2029 sees the dawning of the New World.
Only those who have chosen to transition to the Fourth Dimension will be on Earth.
The "thousand years of peace" start!
Mankind on earth becomes a higher-level civilization.

The Galactic Federation Membership
The Galactic Federation is like the United States of the Universe.
So far, we on Planet Earth have not even been invited for membership into it.
Once we move to the Fourth Dimension, we will be invited to join the Galactic Federation as a member, since we will learn how to accept all with Love.
Published by Ritana Books

Dr Sunny Satin had a Bachelor's degree from IIT Powai (Mumbai), a Master's degree in Chemical Engineering, an MBA in Quantitative Management, and a PhD in Transpersonal Psychology. He completed this manuscript on November 26, 2006 and passed on, on December 1, 2006, while he was doing what he loved best – teaching a group of hypnotherapists in New Delhi. The 'Light workers' whose lives he touched continue to heal as he taught them to – knowing that they have his support and guidance from the Higher Dimensions always.