News - A case for global dharma
by Life Positive
As the world gets smaller and smaller, perhaps it makes sense to arrive at mutually agreed upon tenets of global dharma for everyone, regardless of religious affiliations.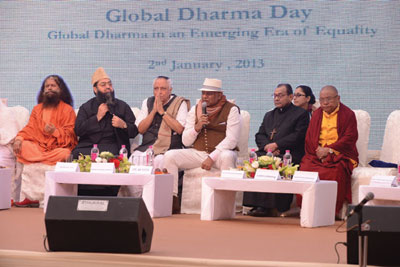 Unity in diversity: Religious leaders convene With this in view, 2013 was flagged off on an elevated note by spiritual leaders of different religions who came together to observe the Global Dharma Day on January 2. During the panel discussion, leaders from different religions agreed on the need for a global dharma, as this would bring equality and togetherness in the nation. The event, organised by Spice Foundation, focussed on consciousness, humanity and unity, in accordance with their commitment to help move from Sin to Sun and from illness to wellness. Speaker, H.H Swami Chidananda Saraswati, President and Spiritual Head of Parmarth Niketan ashram, said that global dharma comes from global consciousness. "When we shift from 'I to we,' we develop global consciousness." He also stressed that when, 'I' becomes 'we', then illness becomes wellness. H. H. Acharya Roop Chandra Muni highlighted that we should move from 'I to You', to be able to move to 'We'. "We must contribute to the good of others and impart the gift of joy," stressed Archbishop Vincent M. Concessao.

The other panelists included Swami Dewan, Syed Zainul Abedin Ali Khan from Ajmer Shrine, H.H Shankaracharya Swami Divyanand of Bhanpura Peeth, Ven. Lama Lobzang, Vice President Mahabodhi Society of India, Dr AK Merchant, President, Bahai Community, Imam Umer Ahmed Ilyasi, the global face of the Imam Organization, Phalahari Baba, Ezekeil Issac Malekar, Priest and Honorary Secretary of the Judah Hyam Synagogue, Bharmakumari Sapna, and Father Dominic Emanuel.

The event, held in Buddha mansion, New Delhi, closed with a spiritual performance by the musical group, Dhwani.