News - A fridge without electricity
by Life Positive
A high-school drop-out, Mansukhhbai Prajapati, is the envy of many an inventor.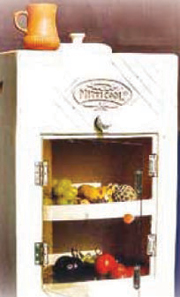 Down-to-earth: The Mitticool fridge is
made from clay A son of a potter from an obscure village, Wankaner in Gujarat, he has come up with a marvel in the field of eco-technology: a clay fridge that works without electricity.

Mansukhbai set up his clay plant in 1988, with a small loan, making clay tavas and vessels. Innovating with water filters in 1995, he started exporting them to parts of Africa. The eventful earthquake in 2001 left Mansukhbhai and his industry in pieces, with huge losses to bear.

A Gujarati newspaper featured a photo of one of Mansukhbhai's water filters that had broken in the earthquake, with the caption 'the broken fridge of the poor'. This caption inspired him to work on a rural fridge that did not need electricity and could be used by the masses. After a painstaking journey of many years, during which he tested all sorts of soils and fridge designs, he finally came out with Mitticool fridge in 2005.

The refrigerator is made of clay and can be used for storing vegetables, fruits, milk and water. It does not need any external source of energy for the cooling effect. The principle of cooling in the Mitticool is the same as that of clay pots, or matkas. The design features a 10- litre water chamber overhead, and two lower compartments which can hold five to seven kilograms of vegetables or milk. The natural cooling process keeps vegetables and fruits fresh for around six to seven days, while milk can be preserved for three days. Apart from saving on electricity bill, the new device also preserves the original taste of fruits and vegetables.

It was found that the temperature inside the fridge was four to five degrees lower than the room temperature. The shelf life of coriander kept inside the fridge was found to be four days as against two days normally at room temperature. The fridge costs just Rs. 2000, with an average life of four to five years. A zero carbon footprint is another badge of this eco-appliance.

Diversifying to non-stick earthen tavas, Mansukhbhai has perfected the art of coating clay with a non-stick material. He has also developed a clay pressure cooker, complete with a whistle too! Mansukhbhai's dream is to build an entire house from clay, with natural ventilation and lighting. With his determination to move him on, and his family by his side, the day isn't too far off.