News - A journey through anger
by Chitra Jha
Dealing with an angry father and husband helped unfold a profound understanding of anger as an emotion

Download PDF Format
My father was quick to anger. He also had an angry countenance, so one didn't know when he was actually angry. All I remember is being very scared of his anger. Not that he shouted at me in particular; but hearing him shout at others was enough to make me determine never to give him a reason to be angry with me. So, at an early age, I learnt to be responsible and do all the right things (things that my father considered 'right') such as studying regularly, scoring decent marks, keeping my space neat and tidy, and not being caught giggling, screaming or listening to loud music.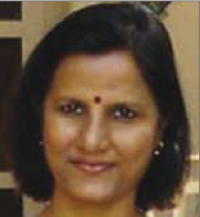 Chitra Jha is a life skills coach, past life
regression therapist, 'now consciousness'
teacher and writer. E-mail: chitrajhaa@gmail.com I married a man of my choice, who was known for his keen sense of humour (he still is!). I discovered his anger only after I started living with him. I realised that he too was quick to anger and could sport an angry countenance, just like my father! Quick learner that I am, I learnt to do all that kept him in good humour and tried not to give him a chance to get angry with me. Over the years I took complete responsibility of our children, including their behaviour. I guess my trepidations rubbed on them as well, because they too never offered an opportunity to their father to shout at them. But there were/are enough people in our environment to bear the brunt of his anger!

Every time he would shout at someone (it may be for a good reason), I would cringe. Soon I started mediating, by asking everyone who worked for us to approach him 'through' me. This approach did lessen his angry bouts in my presence, but didn't eliminate them entirely.

When I started working on my inner growth, I realised the recurring pattern running in my life. I had to 'understand and assimilate' anger in this life experience. This was a biggie for me! Background anger had run like a continuous thread in my life. I chose a father who exhibited a lot of anger. I chose a mother who always played the role of a pacifier. My siblings, like me, were adept at deflecting anger. Then I married a man with a volatile temper. My children were/are a pro at not attracting their father's ire. I am a great mediator/pacifier. I realised that even though the anger was never directed at me, it was always there in the background. What worried me the most was my reaction to anger! Anger in any form bothered me a great deal. It left me feeling very upset and disturbed. Somehow I felt responsible for that anger.

Despite my stupendous spiritual growth on many fronts, the anger issue was still anchored in me. I reached a breakthrough just recently. My husband was getting angry at someone, I tried to mediate, but then something in me (Divine One within) asked me to close my eyes and meditate. I did just that, meditating on the emotional reaction that my body was going through. I asked my body to show me where the emotional charge was lodged. Soon my shoulders started throbbing. I realised that I had been carrying the burden of his anger in my shoulders. I had lived my life with the belief that even when the anger was not about me; it still somehow was my responsibility to contain it. I kept feeling the emotion and the resultant charge in my shoulders until the throbbing subsided. I had been 'shouldering' another's anger!

I reflected some more upon this issue and gleaned some more insights. I have always taken great pride in being a peaceful person. Anger is not really a part of my personality. Then why did I attract two important angry people in my life? The realisation dawned that my father and my husband, both have been reflecting back the anger that I had suppressed inside me. I had to deal with my anger in order to be free of angry outbursts in my presence.

More meditations and contemplations on this issue made me understand anger and myself some more. Here is the gist of that understanding:

Our body has been designed to express all emotions. All emotions are valid. By labelling them as bad or lower emotions, we have long suppressed emotions like anger, hatred, jealousy, lust, guilt, shame, etc. All these suppressed emotions cause various diseases in our body. We experience anger when we feel violated. Once the anger is produced, the body wants to get rid of it because it knows that it is toxic. That is why we express anger.

Expressed anger acts as a protective mechanism. It is a response to the cry of our inner child. Expressed anger can bring people together, by making true feelings known, and not living in pretence. To handle anger properly, we need agreements in all relationships for it. Validation is the key to releasing the pain of anger from the body. When anger is easily expressed, it doesn't get stored in our cells. Anger must be released from the body in order to remain healthy.

Our denial of our anger harms us in the long run. If anger gets stored in the liver and gall bladder it creates obesity, and if stored in intestines and colon, it makes people too thin.

Suppressed anger can also give rise to pains and aches in our body and create emotional blocks. We carry these blocks from one lifetime to another until they are completely released. Unless this anger is completely released, we cannot feel self-love. The physical body cannot increase its vibrational frequency until the hidden blocks of anger are triggered and released.

Today, I feel grateful for the role my father and my husband have played in my life by teaching me how to allow others to vent their anger around me. I am grateful to them for teaching me how to handle expressed anger. I am also grateful for the wisdom that I gleaned by going through this lifelong issue. My shoulders feel relaxed now!