News - A spiritual opening
by Life Positive
Spirituality is expanding to a common household activity from its earlier persona of an elitist de-stressing mantra.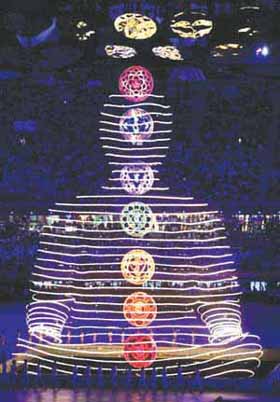 Padmasan posture with the chakras at CWG Why are we so confident of this? The opening ceremony of the 19th Commonwealth Games held in New Delhi last month had yoga exercises performed on stage by members of the Patanjali Peeth group of Baba Ramdev. They focussed on the seven chakras and the power each one contains. The end of their routine was marked by a colossal sculpture of a figure in the padmasan posture, with the seven chakras depicted.

We Indians have been proud of our spiritual heritage and culture, sparing no occasion to flaunt it. What better stage to show the world than the Commonwealth Games? Millions of viewers across the planet got a glimpse of yoga and a basic understanding of the chakras as they watched the opening ceremony. While readers of Life Positive might know a lot about the chakras, others regard yoga as a form of stretches and exercise and have little to no knowledge of its spiritual benefits. With such a grand display, most viewers would be curious to know what those coloured orbs inside the sculpture are.