Healing - A stirring requiem
by Life Positive
DR Kaarthikeyan, President, Life Positive, paid homage to his late wife, Mrs Kala Kaarthikeyan, on the occasion of her third death anniversary on August 2, 2012, at a function held in India Habitat Centre at Lodhi Road in New Delhi.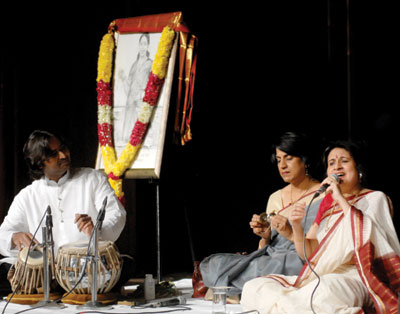 Invoking the memory of Kala Kaarthikeyan through devotional music Also present were Swami Agnivesh and Justice P Satyashivam, a Justice of the Supreme Court. Inaugurating the function, Mr Kaarthikeyan said, "Initially, I wept a lot on the death of my wife. However, she shall always be with me in the form of memories."

Chitra Roy, spiritual singer of the Art of Living Foundation filled the auditorium with spiritual bliss through her devotional renditions. Aarti Khosala, Founder, Prerna School of Inspiration, followed that up with a talk on Soul Connection. Dr Khosala, a karma healer, treats more than 100 people daily. Postulating on the soul and its various aspects, she said, "Soul is connected with the Supersoul. To take it to its ultimate aim we have to take it through various layers by knowing it. In reality the Soul cannot be understood. Therefore whenever we talk of knowing the soul we are stressing upon the need of connecting with the Source." She also threw light on the concept of Purusha and Prakriti, significance of five elements and various aspects of knowledge and consciousness.