News - Alternatives converge
by Life Positive
Even as more and more are moving from allopathy to natural healing through alternative measures, the Government of India too is finally taking steps to give healing therapies such as yoga and naturopathy a boost by promoting their usage.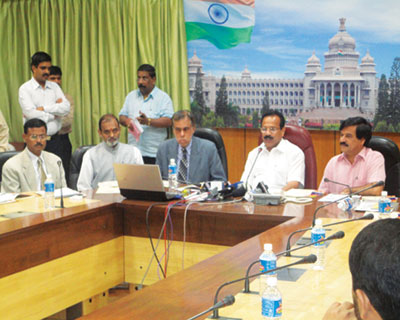 Organisers briefing the media about the event AYUSH, a government of India undertaking committed to popularising the use of ayurveda, yoga, unani, siddha and homoeopathy has been organising a series of fairs across the country to popularise these age-old practices. The newest initiative is the International Conference on Yoga, Naturopathy & Arogya Expo-2012 to be held in collaboration with the Government of Karnataka in Bangalore. The mega event is scheduled to take place at Gayathri Vihar palace grounds in Bangalore from 9-13 February 2012.

The conference on yoga and naturopathy is slated as a global platform for all stakeholders to engage in dialogue about how to boost its practice, and re-establish yoga and naturopathy as valid therapies against lifestyle diseases. The conference will showcase advancements made in relevant fields, orient students and facilitate policymakers, saints and health educators.

The highlight of the event is Guruvandana, where saints and heads of religious institutions will converge to discuss the prospects of yoga and naturopathy. Figures like Sri Sri Ravi Shankar of Art of Living, Padmashri Dr. Virendra Hegde, Dr. Pranav Pandya of Gayatri Parivar, Father Dominique from New Delhi, Imam Umar Iliasi, President, All India Imam Organisation, are the expected luminaries. They will discuss the possibilities of implementing yoga and naturopathy at primary health care levels and incorporating it at primary education levels. Members of Parliament shall also participate.

It shall be followed by an award function honouring those who have done exemplary work in this field.