News - An evening of healing and wellness
by Life Positive
August 2, 2013, marked the fourth death anniversary of Ms Kala Kaarthikeyan, wife of Life Positive's President, Mr. DR Kaarthikeyan.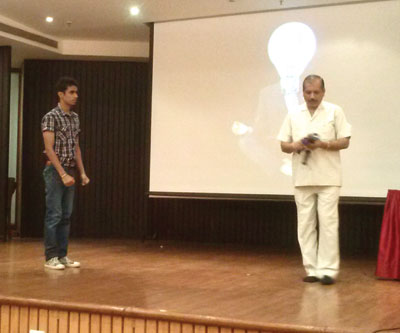 Dr BK Chandrashekhar explaining the mechanism
of healing Like every previous year, this year too saw the day dedicated to healing and wellness. Renowned acupressure therapist, Ketan Shah, provided healing to a number of people. In addition to that, the next day witnessed an evening dedicated to the lady, and her endeavour of providing health and happiness to everyone around.

Held in the India International Center, New Delhi, Kalaanjali showcased Dr. BK Chandra Shekhar and Master Aman Rehman. The programme started with Master Aman Rehman's audio-visual presentation on environment conservation. Touted as the 'Little Bill Gates of India' Aman, all of 13, is a whiz kid with expertise in over 18-plus computer softwares. This wonder kid started working on his elder brother's secondhand computer at the age of three and made his first animation film at the age of four. Aman, a D. Hons from the Open International University, Colombo, is the youngest lecturer in the country. However, glossing over his animation expertise, Aman spent the evening sensitising the gathering on the environment through his animation films.

The second speaker of the evening was Dr. BK Chandra Shekhar, renowned psycho neurobic expert. His presentation was nothing short of magic as he performed an energy test on volunteers and increased their energy levels within minutes. The profound difference between the 'before' and 'after' energy levels left the gathering speechless. "There are three levels of relieving ourselves of diseases – treating, healing and curing. But we only focus on treating our bodies by medicines and hope to be cured. No one can cure us apart from God. But for that we need to reach the level of healing," he said. Psycho neurobics is a combination of emotions, hand gestures and colours. Even diseases like cancer and paralysis can be healed by this modality.

It was indeed a special evening – that of healing and wellness, dedicated to the departed soul.