News - At the feet of the Buddha
by Life Positive
Kalimpong, a small but picturesque hill station in West Bengal, played host this year for a spiritual three-day Buddha Purnima celebration.

Thousands of Buddhist masters, Rinpoches, Khenpos, lamas, monks, nuns, devotees and followers of the Karma Kagyu sect of Buddhism hailing from different parts of the world participated in the processions, debates, holy civilities and unveiling of 'Thangka', a 45-feet high and 30-feet wide hand-stitched image of the Buddha. Thangka displays the simplest expression of visual imagery. "I believe that paintings, sculptures and statues can easily connect with human beings," says His Holiness, the 17th Gyalwa Karmapa, Trinley Thaye Dorje.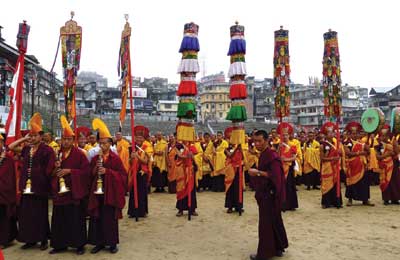 Celebrating the day the Buddha awoke Also part of the ceremony was the Chokhor, a procession in which devotees carry the holy text, Kangyur (the Buddha's teachings) on their heads through the lanes of Kalimpong. It is believed that Chokhor spreads well-being, world peace, integrity and prosperity, where it goes.

The festival, open to the general public, was also attended by His Holiness, who is revered as the highest authority in the Karma Kagyu lineage. Addressing a large group of followers, he taught the congregation lessons on compassion and patience, on enlightenment, absolute freedom, modesty and the purpose of life from the Buddhist perspective. "I am not an experienced teacher but I believe that stillness, visual imagery, words and teachings of the Buddha are the ways of attaining all the virtues in life," he emphasises.

He also spoke on the role of the gurus in his life. "There is a risk of falling into pressure in difficult situations. However, Dharma and my teachers encourage me to swim against the tide. I look up to Buddha for guidance, composure and stability. We need to transit beyond the world of so-called customs, ethics and traditions which are temporary. We need to understand the deeper symbolic meaning of Buddhahood."

Commenting on the response to the festival, Norden Tshering Bhutia, secretary to His Holiness stated that "irrespective of religion, Christians, Hindus, Buddhists and followers from other sects came in huge numbers with their traditional musical instruments to offer Buddha their homage.

The three-day festival is held every year in different cities, to remember the Buddha's ideologies of absolute freedom, complete liberation and perfect enlightenment.