News - Awarding greatness
by Life Positive
DR Kaarthikeyan, president of Life Positive, was awarded the Padma Shri earlier this year, by President Srimati Pratibha Patil, for his outstanding contribution to the field of civil service.

Adding to his list of achievements, this award sits on top of a long and illustrious career.

A man of many parts, Mr Kaarthikeyan, has held many prestigious positions in the democratic framework of our country. He was the Chief of Investigation of the former Prime Minister Rajiv Gandhi assassination case, Director-General of Central Reserve Police Force, Director of the prestigious Central Bureau of Investigation and Director General of National Human Rights Commission. In addition to his professional achievements he has also authored a bestseller Triumph of Truth – Rajiv Gandhi Assassination – The investigation.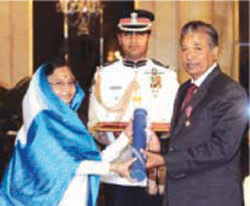 Receiving the honour from the President Post-retirement, Mr Kaarthikeyan is passionately involved in serving the cause of peace and inter-faith harmony. Deeply committed to the spiritual values on which peace hinges, he gives his time selflessly to spiritual organisations across the country.

He says, "Spirituality, after all, is not just about rituals and visits to places of worship, but about character building, imparting of values, responsibility, caring and sharing."

His rich contribution to the betterment of humanity deserves gratitude from each of us.