News - Back to the gurukul
by Life Positive
Foundation for Universal Responsibility of His Holiness the Dalai Lama (FURHHDL) held a monthlong Gurukul programme for students across the country in Dharamsala, Himachal Pradesh, from June 1 to July 7.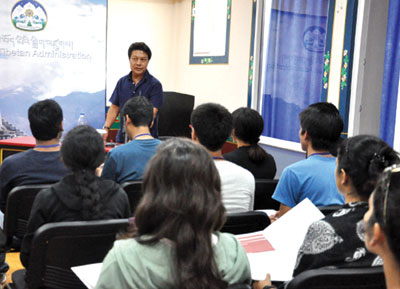 The ongoing 30-day Gurukul programme includes a month-long stay at Dharamsala that includes meeting and learning from eminent Buddhist teachers, volunteering in Tibetan NGOs, living in monasteries and nunneries, meeting with HH the Dalai Lama, and learning and experiencing Tibetan art, literature, Buddhist philosophy, dance, music and many other things. Around 31 students from prestigious universities and institutes across the country like Indian Institute of Technology (IIT) are a part of this annual programme. His Holiness the Dalai Lama graced the occasion with his serene presence, discoursing on Shantideva's A Guide to the Boddhisattva's Way of Life at the Main Tibetan Temple, Dharamsala, from June 1 to 4. The teachings were attended by a hall full of gurukul students as well as people across various Indian sanghas like Nalanda Shiksha.

"The Gurukul programme aims at enriching formal education processes by facilitating inspirational contact with masters of different spiritual traditions, particularly Tibetan Buddhism. This is the 19th year of this programme in Dharamsala where around 300 students have experienced the Tibetan way of life and learning. Also, what could be a better way to keep in touch with the rich Indian tradition of Gurukul studies than this?" says Thupten Tsewang, Director, Administration, Foundation for Universal Responsibility of His Holiness the Dalai Lama.

To celebrate the 19th anniversary of the Gurukul programme, FURHHDL also organised Gurukul reunion programme for previous students on June 5th, apart from the month-long residential study programme.

The reunion programme saw around 30 alumni sharing their Gurukul experiences with the newcomers as well as film screening of Unheard Voices and Notes to myself by Dev Agarwal, ex gurukul student, encapsulating his experience.