News - Bindra Secret Biofeedback
by Life Positive
When Abhinav Bindra took home the Olympic gold medal in the 10 metres air rifle event, he not only made India proud but also demonstrated how biofeedback training can be a vital part of performance optimisation at the highest level.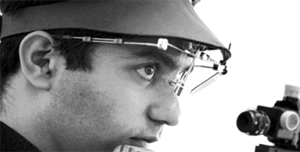 Biofeedback: The extra edge Dead aim is only the tip of the iceberg when it comes to the skills needed to excel at shooting. In addition, shooters need controlled breathing and heart rate, no excess tension in their muscles, no interior monologue, and sharp focus and good reactions to trigger at the moment when the sight image is correct.

Sport psychologist Timothy Harkness used biofeedback training to help Bindra master control over all these areas. Using the FlexComp Infiniti hardware system with BioGraph 4.0 software, Harkness joined a team of shooting coaches, a physician, chiropractor, dietician and physiotherapist to prepare Bindra for the 2008 competition. The result was that an already world-champion athlete was able to push his skills and focus even higher.

Biofeedback is a process that enables an individual to learn how to change physiological activity for the purposes of improving health and performance. Precise instruments measure physiological activity such as brainwaves, heart function, breathing, muscle activity, and skin temperature. These instruments rapidly and accurately "feed back" information to the user. The presentation of this information – often in conjunction with changes in thinking, emotions, and behaviour – supports desired physiological changes.