News - Breaking boundaries
by Life Positive
Integrated medicine as a concept is becoming more and more mainstream.

The latest example of a healthy (pun unintended) blend of modern and traditional treatment is The Medanta Hospital in Gurgaon. Here, cutting-edge medicine is being used in conjunction with traditional Indian healing and practices like yoga, meditation, ayurveda and even the power of prayer. Doctors at Medanta say they have seen patients recover faster than they do with modern medicine alone.

Says Naresh Trehan, cardiac surgeon and chairman of Medanta hospital, "Modern medicine attacks the disease from the outside, while traditional medicine acts from the inside by strengthening the body to fight it." The hospital routinely uses ayurveda to complement the allopathic management of Parkinson's disease and lifestyle-related diseases like high cholesterol levels and hypertension.

Many of their patients have benefitted immensely through this means of treatment. One of the problematic symptoms associated with the onset of Parkinson's is the loss of the sense of smell. Nasya, an ayurvedic treatment in which Brahmi oil is trickled into the nostrils, significantly sharpens the sense of smell in patients with the disease.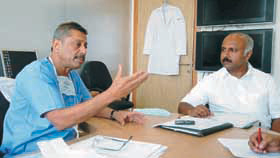 Dr Trehan (l) and Dr Geeta Krishnan discussing holistic health Another encouraging result is in the post-operative recovery of a large proportion of cardiac patients, who are being administered the bark of the Arjun tree, an ayurvedic medicine. Its use hastens the regeneration of blood vessels, difficult to achieve with allopathic medicine alone, but essential for healthy circulation. "Heart patients treated only with allopathic drugs during post-operative care were unable to walk for more than five minutes," says vaid, Geeta Krishnan. "Treated with Arjun bark, they were able to walk for as long as 30 minutes."

Allopathic drugs that help regenerate blood vessels, for example, cost the patient some `90 per day, but Arjun bark works better at just `1 per day.

The hospital is also exploring working with other schools of medicine, like the siddha school of Tamil Nadu, as also homeopathy, acupuncture and acupressure. A unani medicine developed by Jamia Hamdard University in Delhi for bringing down cholesterol levels is also awaiting tests at the hospital. Way to go, docs!

See more such news at http://www.lifepositive.com/Articles/news