News - Bridge to the spirit guides
by Life Positive
It is important to give a structured approach to something as profound as shamanism, says Dr Cosima Klinger-Paul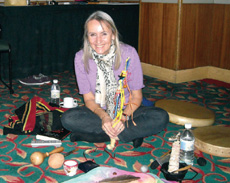 Light matters: Dr Cosima Klinger-Paul shows
the way Explaining why she founded the Soul Farm School of Shamanism in 2010 at the foothills of the Himalayas. The school offers shamanic training workshops and seminars (9 and 14 days) in Delhi and Dehradun. Its objective is to train people to activate their senses and discover their areas of improvement. "The Basic Level One teaches how to create balance in life by retrieving information from non-ordinary reality, shamanic plants and communication with the elements of nature," says Dr Cosima. She explains that shamanism is close to nature so it makes use of natural things and animals like the spirit of fire, water, wolf, deer, eagle, elephant, crane, bison or cow. People who lack leadership qualities might want to learn from the spirit guide of a wolf because the wolf is a natural leader. The owl helps one see through darkness if one suffers from a lack of good vision. An elephant likewise offers lessons on being strong, stable and happy.

The Basic Level One also focusses on the concept of soul loss and the use of ancient wisdom to understand the cycle of life. Soul loss, according to Dr Klinger-Paul, happens when we undergo trauma which we are unable to process. This leads to the splitting of a part of our soul which goes into the cosmos. Loss of our soul even partially can create a sense of being incomplete, leading to emotional, psychological and physical ailments. When this happens, a shaman goes into another reality, talks to the spirit guides till they have an answer and brings back the person's lost soul part from the universe.

Basic Level Two, which is an advanced learning programme, helps one understand the shamanic concepts of illness and healing. "Shamanism does not focus on trauma but treats the spirit and tries to understand a macro or micro-trauma of an individual. This programme also teaches how to find the vision of your life," Cosima says.

"We are going through a time of change and transformation. The training programmes offer an opportunity to use the quality of the time to realign ourselves with the principles of nature," says Dr Cosima.