News - Dance your illness away
by Life Positive
The therapeutic benefits of dance and movement have long been established. Dilshaad Patel, a trained dancer and now also a trained dance therapist from USA, has gone a step further and formalised the Dance Movement Therapy (DMT) for Indian conditions.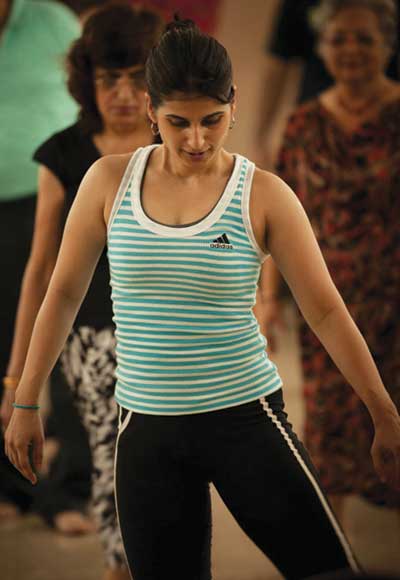 "Dance therapy is not only used successfully to help people deal with brain injury, AIDS, arthritis, amputation, stroke, cancer, and a number of other physical and mental ailments but also due to its diversity, can help prisoners, actors, athletes, dancers, beauty pageant contestants, as well as normal individuals to get fit and gain a sense of wholeness," says the petite, young therapist.

Apart from physical stress, individuals with life-threatening medical conditions such as cancer have to deal with psychological issues as well. According to Dilshaad, DMT can be of immense help to these individuals to not only express themselves verbally and non-verbally but also to reconnect with their bodies and minds.

Making a distinction between dance as a therapy and dance therapy, Dilshaad explains, "Both are actually two different professions. In the case of the former, different forms of dancing, with pre-defined steps are taught by a dance instructor. This form of dancing helps keep you fit and is a great stress-buster. However, DMT has a more scientific approach wherein an individual finds an outlet for his emotions and feelings, by moving to an internal rhythm of his own choreography. Un-choreographed movement by a person is the direct reflection of the state of his mind and emotions. The client tells his story and the therapist is trained to reflect and interpret."



Dilshaad at work Dilshaad's interest in dance therapy arose while she was working as a performer and instructor at the Shiamak Davar Institute of Performing Arts (SDIPA). There she got an opportunity to work with the children of sex workers, orphans, juvenile delinquents, those infected with HIV, deaf and the visually challenged. "I realised then, the various challenges and rewards in counselling the individuals with special needs and I decided to do more with my skills as a teacher."

So what does a DMT session look like? "Doubts range from, what form of dance is it? I have two left feet. I'm old and used to be able to dance but I can't anymore…The first thing that needs to be cleared is that you do not have to be a dancer to be part of a session. If you can breathe, you can dance," she emphasises.