News - Do less, get more
by Life Positive
All those who constantly face flack for being slack can now heave a sigh of relief.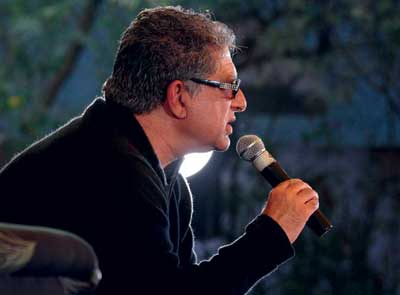 Deepak Chopra advocating the 'Do less-get more' theory If Deepak Chopra, the New Age spiritual guru of the West, is to be believed, then trying too hard may be a recipe for failure. Speaking at a symposium titled 'The return of the rishi' at the Jaipur literary festival recently, Chopra said that man must realise that he is a product of consciousness that exists outside of space and time and this consciousness manifests everything just by 'being', not doing.

On the parameters of man's essential divinity, 'doing' ranked fourth, he said. Feelings and thinking were second and third respectively, first being the state of pure consciousness. An 'ecosystem' can return to the level of being at any time and ask for the creative process to unfold from a compassionate level, he added.

Addressing a huge gathering of glitterati and literati who had assembled to listen to his unconventional wisdom at the fest, he quoted Descartes, the Gita, Stephen Hawking, Jawaharlal Nehru, Nisargadatta Maharaj and several others to buttress his point. He talked of stress arising from confusing man's real self with his image-self, and worrying about limitations instead of recognising his divine origin. He said his motto in life was, 'Do less and accomplish more, and ultimately do nothing and accomplish everything.'

"Do as nature does – less," he advised. "The universe is already flowing with effortless abundance. When you try too hard you block the free flow of this natural energy and create unnecessary struggle," he explained.

Nature is certainly an outstanding example of doing nothing while accomplishing everything. Looking at tranquil fields swaying peacefully in the breeze, it is hard to believe that constant activity is happening that enables them to grow, flower and give fruit. Lesson: let go and let God.