News - Eco Ganapati
by A Rishi
What better way to celebrate the festival of Ganesh Chaturthi than by making it the most creative and enjoyable event of the year? That's what Aruna and Santosh Joshi, avid readers of Life Positive, discovered when they made their idol out of clay at home.

It wasn't easy; they had to hunt for the clay but found it near their house. What followed was the memorable and thoroughly enjoyable process of making the idol with their own hands, at home. Made of 35 kg of clay and water, coloured by sindhur and oil, using diamonds as eyes, in the Lenyadri cave atmosphere complete with a waterfall, the Ganapati idol exhibited grandeur and originality. This completely natural and bio-degradable Ganapati was later immersed, but left no scar on the environment.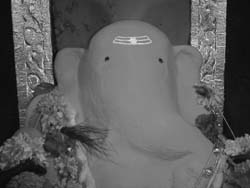 Aruna and Santosh's eco-Ganapati Other ways to be environmentally responsible is using newspaper and some glue to make a papier-mâché idol. Using clay and wheat flour is another innovative way of doing so. Idols were made of clay and adorned by natural colours earlier, but since plaster of Paris is easier to mould and lighter it has gained popularity. The day after the immersion, large amounts of debris is found on the beaches; and the acidity levels of the sea rise considerably because of the mercury, cadmium and other metals in the paints.

Going back to the natural way is important and there are plenty of ways to do so when it comes to Ganesh Chaturthi. A return to clay idols is the most direct step. Avoiding artificial colours is another important way. Using stone or metal idols that could be used repeatedly year after year, and symbolically immersing it is a method many are adopting. Immersion is symbolic of the cycle of creation and destruction, where an artificial water body or even your bucket at home would suffice. Conscious celebrating would also include music played at moderate levels so as not to disturb the neighbourhood.