News - Energy bar, anyone?
by Life Positive
Can we tempt you to try a date bar or an apple and cinnamon bar or how about an apricot bar?

The time is ripe for energy bars to enter India and with the newfound interest in organics it was only a matter of time before organic energy bars made their appearance. The lady who seized the day is Seema Jajodia whose extensive research into health, nutrition and organic food has resulted in a range of health foods from a company called Nourish Organics.

The company's USP is to cater to the growing need for a nutritious diet among city dwellers strapped with a busy schedule.

The mainstay of Nourish are organic health bars such as date bar, lime & date bar, apple cinnamon bar, apricot bar, anjeer amaranth bar, ginger clove bar, amla bar, rose and anise bar, and all-spice bar. These bars we are told, are made from the finest natural and organic ingredients, naturally rich in fibre and omega 3 fatty acids. There are no artificial preservatives,sweeteners, additives, and flavours.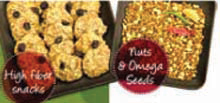 Healthy delights Another important food product of the company is seed mixes. This includes omega seed mix, spicy roasted seed mix, ground omega seed mix, sprouted flax seeds, sprouted sunflower seeds.

They also have high fibre cookies and snacks, brown rice cookies, oatmeal cookies, brown rice snack, trail mix, spicy trail mix, honey roasted walnut, honey roasted almond, and honey roasted cashewnuts.

The one quibble: the products are somewhat pricey; but on the other hand, it is probably worth investing in promoting health rather than in overcoming disease.

www.nourishorganicfoods.com
E-Mail:info@nourishorganicfoods.com

To read these articles online and post your comments, go to http://www.lifepositive.com/articles/news