News - Energy heals all
by Life Positive
Diabetes is a dreaded disease which can prove to be fatal unless regular care is stringently followed by the patient and his or her caretakers. India, unfortunately, is amongst the top three countries with diabetes.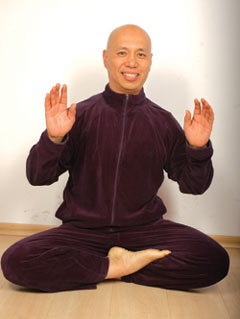 Master Del Pe and his energy medicine Master Del Pe, world renowned expert in Energy Medicine and Healing Sciences, had some interesting insights as well as holistic treatment measures to offer during an introductory session of his Energy Healing System. Master Del Pe observed that Indians had a high emotional quotient as compared to the British, which made them more prone to psychosomatic diseases like diabetes, which is caused by the impact of negative emotions on the pancreas and kidneys. He also introduced the audience to the effect of breathing on personality. A person who predominantly uses his right nostril for breathing is of a more dominating and aggressive nature than a person who breathes mainly through his left nostril, he revealed, suggesting that one can reduce aggression or increase it by switching to the opposite nostril. Master Del Pe is also the author of popular books like From Success to Fulfillment and Hidden Dangers of Meditation and Yoga, besides others. He pointed out some of the pitfalls we may encounter by practising without adequate knowledge. For instance, the popular gyan mudra, which entails joining the thumb and the first finger is a typical yogic mudra and should be done to attain knowledge and enlightenment. However, this mudra is completely anti-materialistic and in practising this daily during your meditation session, you may be unknowingly reducing your chances of material success. The proper mudra to attract financial success is to join the thumb and the middle finger! Master Del Pe also taught some easy-to-follow breathing exercises which ensured the maximum intake and flow of oxygen in our body, which in turn provided numerous benefits and acted as cure for many ailments. The audience was guided through a series of such practical breathing exercises, which, unbelievably, brought about some instant improvements.

Overall, the session allowed the audience a glimpse of the immense potential which energy healing had and also provided a ray of hope to many who were looking at alternative healing options as a mental, physical or emotional cure.