News - FOUR LEGGED SPIRITUALITY
by Life Positive
Studies have shown that living with an animal companion improves a person's physical health and well-being. Having a pet can lower your blood pressure, reduce stress, and release endorphins.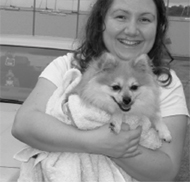 Manís best friend: who can doubt it? Many people also believe that connecting with animals improves their spiritual health. Animals with their seemingly boundless capacity to offer spiritual qualities such as unconditional love, gratitude, patience, and joy, are called 'angel animals' by a newsletter circulated in USA by the same name.Nancy Hanley, from Walpole, New Hampshire, wrote the following story, published in the Angel Animals newsletter. In it she shares her experience with an 'angel animal' named Missy, a 15-pound dachshund who she calls an integral part of her healing process. After Nancy separated from her husband, Missy entered her life as an eleven-week-old, five-pound bundle of joy.

Missy helped Nancy to heal physically. Nancy used to suffer from migraine headaches. When she could not tolerate light, noise, or even thinking, Missy would cuddle up on the couch and lick Nancy's tears as if to say, "It'll be all right, mom. Just you wait and see." Having Missy on her chest allowed her to hear the dog's heart so clearly that it reminded her to do some deep breathing. Oxygenating the blood vessels in Nancy's head was a very important step toward relieving pain and healing from her headaches. Eventually, Nancy would fall asleep and feel better when she awoke.

A year and a half ago, Nancy had a severe infection, which caused her to be out of work for weeks. Through extremely high fever and other traumatic physical symptoms, Missy comforted Nancy with what she calls the dog's 'endless dance of joy,' always putting a smile on Nancy's face no matter how bad she felt. Nancy writes, "Missy's companionship during those rough days was such a comfort. I would often talk with her and know deep within myself that she understood everything."

Nancy says that over the years of sharing her life with Missy, she and the dog developed the ability to communicate spiritually, soul-to-soul. She says, "I've worked diligently to increase my intuitive perception so I can receive feelings from Missy and know when she is in pain or needs to go for a walk. She is very good at getting my attention. She looks straight into my eyes to let me know what she needs, and usually I understand." Tempted to adopt a pet and enjoy this unique camaraderie?