News - Feel the pulse of health
by Life Positive
In order to free ourselves of suffering, balance of the five elements within the body is vital, and Pulse Balancing technique plays a key role in it.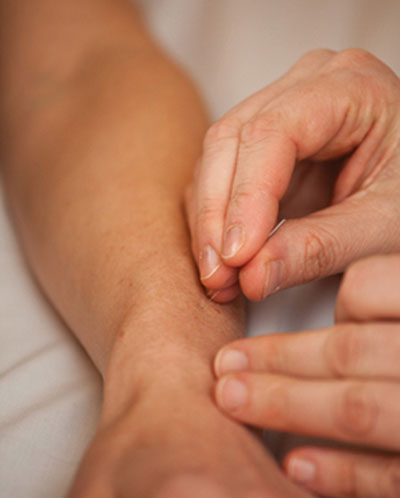 Inserting a needle at the energy centre for pulse balancing Pulse Balancing is an age-old technique that has stood the test of time and is today becoming a sought-after treatment procedure to bring back the balance within us.

Dr. L. Umaa Venkatesh elucidates on pulse balancing and its benefits. "The universe (Macrocosm) and we humans (Microcosm) are all made up of the five elements, commonly known as the pancha bhoothas. These are fire, earth, air, water and wood. Universal energy flows into the human body and travels through certain inconceivable paths known as meridians. These meridians carrying the universal energy are not rigid pathways. Thus there is a large possibility of the energies getting mixed up, which in turn creates a block." When energy doesn't flow properly to any one of the five elements, viz., fire, earth, air, water and wood, it leads to a disease in the human body. This imbalance reflects in our pulse or naadis. The naadi is diagnosed and when a single needle is administered to the energy centre, the block gets cleared and the corresponding organ gets rejuvenated. This is known as pulse balancing. Here, the work of the doctor is similar to a plumber whose focus is on the removal of blockage to allow proper flow.

Today even newborn babies suffer malfunctioning of kidneys, respiratory problems, diabetes, hepatitis, colic problems, optical and speechrelated problems. The imbalance of their parents is transmitted to their bodies when the baby is in the womb. Every baby inherits the imbalance since it is in the mother's womb for nine months and the rectification alone takes nine years.

Pulse balancing improves concentration, memory and creativity in children, and ensures that we give society a healthy generation. Even hereditary diseases are kept at bay when pulse is balanced at a young age.

Regular balancing of the five elements prevents chronic diseases such as diabetes, kidney failure, BP, heart problems, arthritis, sinusitis, asthma, menstrual disorders, hormonal disorders, impotency and infertility. It also helps in mental disorders such as depression.

One's character and personality are also affected by imbalances in the body which can be easily set right by Pulse Balancing. When this treatment is given from infancy, children grow into conscientious individuals.

When the five elements are balanced, a person becomes a centre of positivity and is capable of uplifting his surroundings.

By regularly balancing the five elements in the body, one can live a harmonious life, and realise one's full potential. Along with balancing aspects, slight modification in the lifestyle such as walking, yoga, pranayama and healthy eating habits are advocated for optimum health and happiness. What is more, you will not need to use medicine ever!

www.pulsebalancing.com, pulsebalance@gmail.com.