News - Fire of intuition
by Life Positive
Charu Goel, a creative artist and textile designer with a diploma in History of Art from London Art College presented a paper on Creative Intuition, in an international conference on Science, Spirituality, and Humanity Transcending Discipline Barriers at the University of Delhi recently.

According to her, the feeling of peace one enjoys after or during deep meditation is intuition. Intuition knows the truth which is far beyond rational thought. She believes that science is an objective expression while art is an emotional and subjective expression which helps one connect with the
 
 
There comes a leap in consciousness, call it intuition or what you will, and the solution comes to you and you don't know how and why.
-Albert Einstein
 
 
Creator. Charu spoke on what creativity, skill, talent and scientific knowledge mean. "Creativity is spontaneous and comes from the soul, not from the mind.
Creativity
can be acquired if a talent or skill is carefully crafted and nurtured with will, patience, and curiosity," said Goel.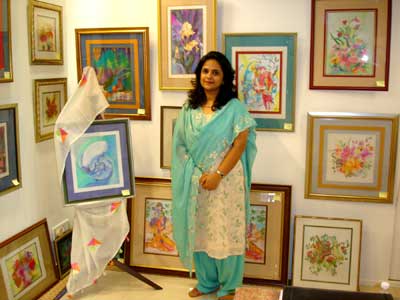 Artist and textile designer Charu Goel
Charu cited examples from the
life
of famous scientists, Albert Einstein, Isaac Newton, Erwin Schrodinger, and Leonardo Da Vinci to illustrate the connection between intuition,
creativity
and spirituality. "Einstein used to tell his friends that he had no special talent except that he was passionately curious. His experiences were mysterious and mysteriousness is the emotion that stands at the cradle of true art and true science," said Goel.
"All human beings are born with creative energy and intuitive power. One can develop creative intuition by connecting individual soul energy and supreme soul energy through meditation, relaxation, prayer and contemplation," she added.