News - Fish for your soles!
by Life Positive
Imagine dipping your feet into sparkling, clean water and having them cleaned and healed by a shoal of doctor fish! Yes, you read it right. Get your feet cleaned by a special species of fish known as the doctor fish or Garra Rufa.

The therapy more popularly called a fish spa is quite popular in many parts of the world and now has made a grand entry in India as well.

A few malls in Delhi and the NCR are already equipped with such spa services which are fast becoming a major attraction for the crowds thronging the shopping mall. So if you believe in the motto 'shop till you drop' you might want to give your feet a break by experiencing yet another form of alternative therapy.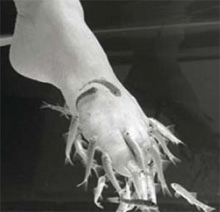 The Garra Rufa are specially imported from Turkey in most cases, where they are bred and have been successfully used to give beneficial results to patients suffering from psoriasis. The fish only consume the dead and affected skin of the feet, leaving the skin healthy and glowing. It is also believed that the fish secrete a special enzyme which has healing properties and works well on infected skin. It is not a curative treatment for any skin disorder; however, the visible benefits are easy to see and feel. A session with the aptly named doctor fish can leave your feet feeling alive and smooth within half an hour to 45 minutes.

The attendants at the spa ensure that the customer's feet are cleaned before they dip them in the tank containing the fish. Also the water is constantly circulated to prevent any infection from setting in or the water getting dirty. After the fish have worked on your feet, the attendants follow up with a soothing cream massage, often using some form of acupressure to add further benefits to the entire experience.

So if you are suffering from any skin infection on your feet, have calloused and rough feet or simply want to relax the tired muscles – then the fish spa is the one-stop solution for you.