News - From shadows towards light
by Life Positive
Dr. Neena Verma's workshop on leadership, The Leader's Journey… Transforming shadows into light' went beyond the usual platitudes. Taking a deep and psychological approach to the subject, she juxtaposed Mythologist Joseph Campbell's concept of The Hero's Journey with Psychoanalyst Carl Jung's path-breaking 'Shadow Aspect of the Psyche'.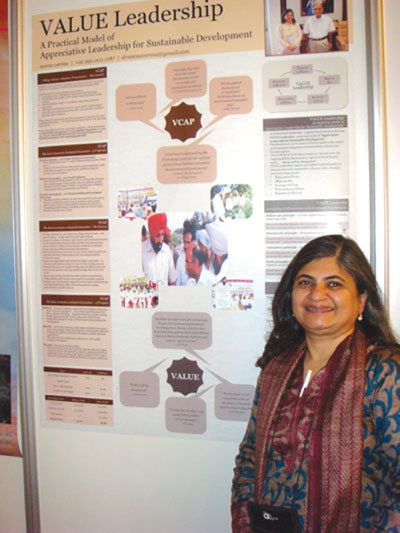 Dr. Neena Verma: Helping you discover and transform
your shadow sides Participants found themselves exposed to an intense and exploratory experience that led them to aspects of themselves that they had rarely examined. Neena created and held a learning space that encouraged people to acknowledge, accept and transform their shadow side, both at personal and leadership levels. This unusual workshop also helped people uncover their lost or blurred 'golden shadow self by helping them unravel their yet unknown or unrealised talents. The most heartening aspect of the workshop was the support each received from the other participants as well as from Neena herself. Exercises like knowing one's archetype helped participants discover their true selves and also map out their shadow areas. The two-day workshop revolved around moving away from your comfort zone, recognising your true 'call for initiation', recognising the reflection of one's 'dark' or 'gold' shadows in one's reaction to the beahaviour of adversaries or allies, creating shadow gifts and making use of these gifts to help people. The group was an inspiring mix of senior organisational leaders from across industry, consultancy and academia. With laudable courage, they not only worked on uncovering and sculpting the 'heroic leader' within themselves, but also helped the rest of the group to do so.

"The aim of this workshop was not to find solutions for you but to rattle you and make you question about your own selves," she concluded. Dr. Neena Verma is the ODPRAXIS Director and Practice Lead. She is an accomplished consultant of 'Organisation Leadership, Change, Learning & Development' and 'Sustainability Impact'.