News - Get emotionally intelligent
by Life Positive
Do you suffer from depression, feel victimised, consider yourself a failure and feel largely unappreciated by others? Marita Nazareth, a soft-skills facilitator from Mumbai, has just the right remedy for you.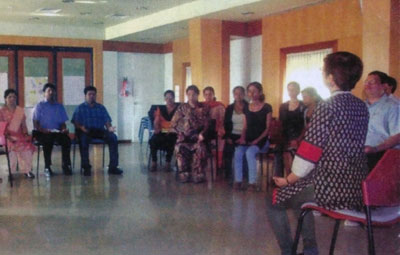 Marita Nazareth holding one of her popular workshops on Emotional Intelligence "The magic lies within you, although you may not be aware of it," she says emphatically. Marita is referring to the need to cultivate Emotional Intelligence, a concept that teaches us how to feel our emotions, manage them, stay sensitive to the feelings of others and other such intangibles that largely determine our happiness and health.

Considering that we Indians are by and large an emotional people, it is high time we became intelligently emotional. Maybe there would be less saas-bahu serials then!

"The problem with most of us is that we brood too much on our negatives and take very seriously the uncomplimentary comments made by others about us. By focussing on the negative we only keep feeding and strengthening it even more," she explains.

Marita is a trained psychologist and NLP expert who has conducted hundreds of workshops to make people realise that they have all that they need to become happy, strong, successful and capable. The path to gaining all this is to correctly use their intelligence which often gets squandered because they do not know the laws that operate life. Marita uses tools like games, role plays, and charts to train people to learn to effectively switch from left brain to right brain in order to successfully use emotions for success and happiness. "All of us seek appreciation and begin to feel unworthy if we do not get it from others. However, if we learn to appreciate and congratulate ourselves for all the good in us, then we have found the key to gaining confidence," she asserts.

Sudha Parab, a participant and a beneficiary says, "The best thing was that Marita taught us how to see the positive side of negative things and vent our anger in a positive way. She is really good and the training was so enjoyable."

Catch up with Marita Nazareth at a workshop on Emotional Intelligence organised by Life Positive Foundation on May 19 and 20th in Mumbai. For details turn to Page No 61.