News - Global green kids
by Life Positive
While several countries were busy battling out at the United Nations Climate Change Conference at Copenhagen, back home, a group of school students from various schools situated in Whitefield, a suburb of Bangalore, were already doing their bit to counter climate change and also deal with solid waste.

In the summer of 2009, five seventh and eighth graders got together to form an eco-group called Global Green Kids (GGK). One of the greatest villains of urban and rural India has been the emergence of polythene bags, which incidentally takes a million years to degrade. Says Karan Arora, an eighth grader from GGK, "While plastic has its uses, it can also be toxic to the environment if not treated properly. It can release toxins into the soil and into the water we drink. Very often, plastic bags disposed carelessly in the environment makes its way into the stomach of an unsuspecting animal causing its death. This is responsible for the disruption of the food chain. Moreover, crude oil is used to make it, giving off greenhouse gases that add to global warming."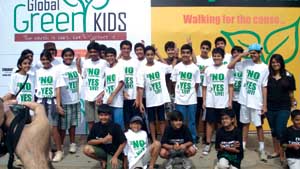 The kids decided that a walkathon would involve wide participation and create awareness among the people. Unlike a marathon where only a few can run, a walkathon is capable of involving people of all ages and that was the best way to spread the message. The walkathon, held in December 2009, had an overwhelming response. Attractive cloth bags were distributed to all participants and a pledge was taken from them that they would not use plastic bags in the future and would also spread the anti-plastic bag message. These green kids hope that gradually residents of Whitefield would make it a habit to carry their own cloth bags. They hope for a significant success in the Whitefield area which can then be replicated in other residential areas of Bangalore. Eventually, who knows, the country itself may go the green kids way. Yay!