News - Goodbye to sweetness
by Life Positive
August 3 was a tragic day for the Life Positive family for it saw the passing over of our patron saint, Mrs Kala Kaarthikeyan, wife of our president, Shri DR Kaarthikeyan.

She was 59 years old, and her demise was the result of a massive, silent cardiac arrest in sleep. Perhaps neither she nor we guessed at what a role she played in our lives because like some of the most fragrant of flowers, she bloomed in self-effacing silence. In her absence, we are becoming increasingly aware of what her presence actually meant.



Kala Kaarthikeyan: sweetness and light Kalaji was a rare person – one who took her identity from being human and simply related at that level with everybody. Even though not obliged to do so in any official capacity, she was a source of support and strength in all our activities. Her joyful smile, lightness of demeanour, and humility gave her an authenticity that drew others to her effortlessly. From all our hearts at Life Positive, she drew a special response, a combination of respect, appreciation and deep affection.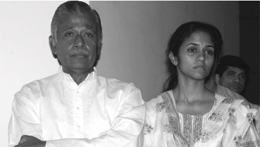 The bereaved family Self-effacing yet busy in various service-oriented activities, we fondly and respectfully recall her unflinching support to the mission of Life Positive. She was always there when we needed her, her quiet strength and her ready smile radiating reassuring warmth. At the 2007 Life Positive Expo, our chief guest for one of the evening functions was Chief Minister of Delhi, Mrs Sheila Dixit.

Mr Kaarthikeyan was out of town so Kalaji took over his duties with great sincerity, looking after Mrs Dixit with solicitude, and ensuring that everything went right. Time after time, she has stepped in when needed, and then stepped out again, the epitome of egoless selfless service.

Only a month ago, I had been to Delhi on the occasion of the launch of my book, Travelling Light. I called her and requested her to come for the launch and she replied that she would not miss it for anything. She stayed till the end of the function, her warmth and friendliness touching my heart as always. It was the last time I would meet her.

It is inevitable that such people will be deeply missed, particularly when the death is sudden and unexpected. At the memorial function held in her honour, it was painfully evident that her demise had left a void in the lives of all those who knew her. Says Mr Kaarthikeyan, "If I say I have lived with an angel for almost four decades, it will be no exaggeration. How I wish that I had been blessed with the privilege of having lived with her for more time!"

Their son Kailash movingly said that he could not recall her holding anything against anyone. She unconditionally accepted everyone and gave no one any trouble.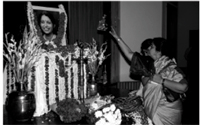 Friends and family pay their last tributes Says Life Positive chairman Aditya Ahluwalia, "I will personally miss Kala-ji's attention and the loving care she showered on me whenever I visited her residence but I will try instead to remember the good fortune and privilege I had of being the recipient of such love and affection."

In a joint letter signed by Sister Mohini, Gayatri, Judy and Julia of the Brahma Kumaris, they say, "She will be greatly missed by all her friends around the world whose life she has touched in so many subtle ways."

Sunyogi Umashankerji assured Mr Kaarthikeyan that he went into meditation on hearing the news of her passage and intuited that she had passed away in a state of samadhi.

Professor BM Hegde, retired vice chancellor at the Manipal Univesity says, "I don't remember having met another lady of her goodness, humility, and universal compassion."

Mr Kaarthikeyan says that hundreds of messages and tributes have reached him in the days following her demise, proving the innumerable ways she touched the lives of others. Actively involved with the Art of Living and with various other holistic and spiritual activities, she lived an exemplary life. At the memorial function, in the poignant presence of her smiling face, most eyes filled up.

The ceremony too was a remarkable testimony to her and Mr Kaarthikeyan's pluralistic all-embracing nature as spiritual leaders of all faiths gathered to pay respects to the departed soul and pray for her. Maulana Wahiduddin Khan of the Centre for Peace and Spirituality read a verse from the Koran which explained that death, like life, is positive. Swami Agnivesh of the Arya Samaj offered a warm tribute to Kalaji. Father Dominic Emmanuel read a passage from the Bible explaining that in life and in death we are held in the embrace of the Lord's love. Representatives from the Sikh and Bahai faiths also spoke.

Her departure from the mortal coil is a deep loss for all, but for herself there can be no occasion for grief. It is clear that Kalaji's mission on Planet Earth was complete and she was free to progress further on her spiritual journey. We are sure that she has attained the highest heaven and that she lives in eternal bliss.

Suma Varughese
September 2009