News - Hannahs Story
by Life Positive
Two years ago on a chilly Thanksgiving Day, 4-year-old Hannah Turner was helping serve dinner to the needy at the Cherry Street Mission with her family.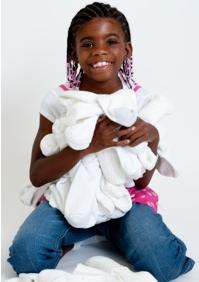 Observing a man close by with his shoes split open, she tugged on her mother Doris' sweater, "Mommy, won't his feet be cold?" she asked, and quickly made up her mind saying, "Mommy, he can have my socks." The next day, Doris took Hannah to purchase and distribute socks to local shelters. During the next two years, they were able to collect and donate over 100 pairs around Toledo. Within two years, Hannah's Socks became a full-fledged charity organisation, distributing 1400 pairs of socks in Ohio, with plans to go nationwide. Read more at www.hannahssocks.org Website: www.dailygood.org
Apply it: Donate some of your belongings to someone who really needs it.