News - Harmony in Hyderabad
by Life Positive
With 2012 actually here, spiritual organisations are pulling out all the stops to make sure that the word filters down to the last man standing.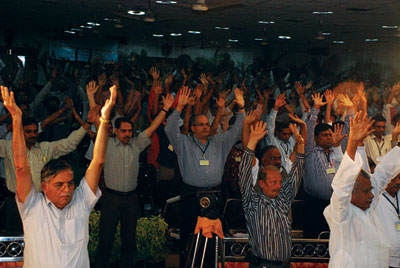 Standing united for a better world A case in point is the two-day fifth International Conference on Spiritual Science that took place in Hyderabad recently.

Boasting of a stellar collection of evolved beings from 15 countries and 15 Indian states, paradigm shifting ideas and concepts were exchanged and transmitted. Life Positive President Padmashree DR Kaarthikeyan set the tone with his thoughtful address on Global Oneness in the Present Era.

Grandmother Pa Ris Ha, native American and wisdom Path teacher, spoke about how effective indigenous intelligence could be in treating ailments and how medical science could learn a thing or two from them. Janet Attwood, life skill coach from the US, spoke passionately about the possibilities of the new world. Dr. Susan Schumsky, American author and spiritual speaker, traced the human journey of spiritual evolution insightfully. Jennifer Hough, writer and spiritual speaker from Canada, shared tips on how to shift to effortlessness and fluidity from the confusion and complexity of today's times. Gerard Jaboulay threw light on the ever-popular Unidentified Flying Objects, (UFOs). Macaco Tamerice, a German spiritualist, spoke on the importance of community. Sunyogi Umashanker demonstrated the techniques of Sun yoga, a method by which one can get one's energy source directly from the sun.

The Hyderabad event, first in the series of pre-parliaments across the globe, was essentially a curtain raiser to the first world parliament in spirituality. The spirited volunteers ensured a flawless symphony.