News - Harnessing youth power
by Life Positive
Youth is the best time. The way in which you utilise this period will decide the nature of the years that lie ahead of you.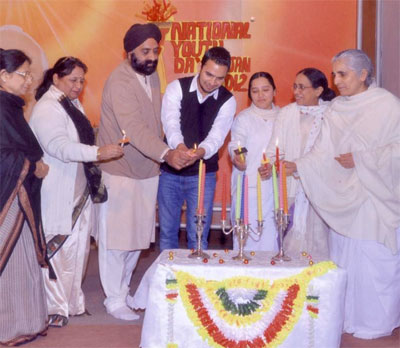 Brahma Kumaris: Moulding character in the young and restless During this wonderful period, you are as flexible and malleable as soft wet clay in the hands of the potter. …Therefore, you can wisely mould your life, your character, your physical health and strength." This quote by Swami Vivekananda was the benchmark of the youth programme that was organised by the Brahma Kumaris in New Delhi recently.

An intimate gathering of more than 100 youth were taught how to bid goodbye to the old and ordinary to awaken the beauty and inner power within, and how to be successful without inviting stress in life. Dr Usha Kiran, professor, department of cardiac anaesthesia, AIIMS, spoke on the importance of relationships with parents in the context of spirituality, "The young are in search of modern lifestyle and money. We keep talking on the phone with our friends and do not realise how little time we devote to our parents. Try to understand their unsaid words and feelings. Spirituality is not running away from the world, rather happiness in any form is spirituality. Happiness helps us to increase our capacity to solve problems. Try to inculcate the practice of meditation as it helps us to get clarity in every situation."

Dr Mohit D Gupta, assistant professor of cardiology, GB Pant hospital, spoke on success. He said, "In this mad race for success we have lost God, family, and friends. Youth should not run after success as success can never be controlled. We can only control our performance. A successful person is one who is happy at the end of the day."

He added, "Stress is a form of pain. All through life we keep fighting with stress. Empower yourself with skills, knowledge, hard work, right attitude and love for God. Share your joys and sorrows with your loved ones in the presence of God. It will keep your heart warm and mind cool to combat stress." Brahma Kumaris World Spiritual University is an international non-governmental organisation headquartered at Mt. Abu, Rajasthan, India, with over 8,500 centres in 100 countries, territories and islands. It was founded in 1936 by Dada Lekhraj, who had a series of visions depicting world transformation. The Brahma Kumaris seek to help individuals re-discover and strengthen their inherent worth by encouraging and facilitating a process of spiritual awakening.

MEMBER AREA