News - Health and homeopathy
by Life Positive
Homeopathy has heralded a promise of cure without any side-effects. The public health experts look at homoeopathy to provide solutions to day-to-day illnesses.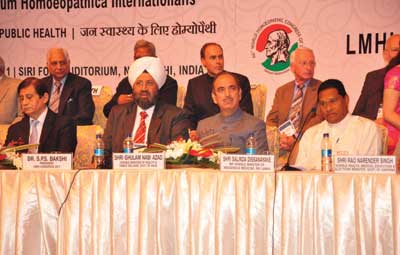 Dr. Ghulam Nabi Azad and Dr. SPS Bakshi at the meet Rampant use of antibiotics should be checked to save the human race from the onslaught of more drug-resistant bacteria," said the union health minister, Ghulam Nabi Azad, who was speaking at the 66th World Congress of Liga Medicorum Homoeopathic Internationalis (LMHI). The biggest conclave of homoeopaths in the world, it was held on December, 1 - 4, 2011, at Siri Fort Auditorium in New Delhi.

Management of epidemics of dengue, chikungunya, pain management during childbirth, homeopathic approaches for the treatment of HIV and AIDS and clinical study of homeopathic medicine in cases of child epilepsy were the topics discussed in the congress. "Homeopathy plays a supportive role in cancer, diabetes, hypertension, thyroid and AIDS. It can check the progress of the diseases and prevent further complications. Homeopathy can also improve quality of life and prolong life span," said Dr R K Manchanda, organising secretary, LIGA Congress 2011. "Higher use of homoeopathy will minimise the overuse of antibiotics in commonly occurring infectious diseases, thus checking the incidents of antibiotic resistance in public at large," said Dr SPS Bakshi, president, LIGA, Congress 2011.

Over 2000 homoeopaths and 300 foreign delegates including international speakers from Australia, Austria, UK, USA, Canada, Belgium, Brazil, Italy, France, Netherlands, Mexico, South Africa, Japan, Ireland, and Germany participated in the congress. The theme of the congress was homoeopathy for public health and was co-organised by the Homeopathic Medical Association of India (HMAI), Indian Institute of Homeopathic Physicians (IIHP) and Asian Homeopathic Medical League (AHML). Salinda Dissanayake, minister of indigenous medicine, Govt. of Sri Lanka, Shri Rao Narender Singh, health and medical education minister, Haryana and several other prominent dignitaries were present on the occasion.