Homeopathy - Homeopathy`s vindication
by Life Positive
Though people are increasingly turning to homeopathy for safe and assured treatment, mainstream medicine has never really acknowledged its validity.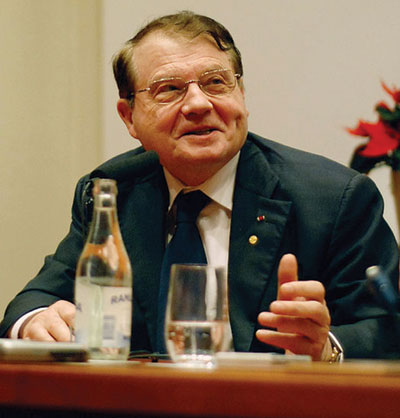 Dr. Montagnier: Making a strong case for homeopathy However, this much respected therapy gained a shot in the arm when Nobel Laureate Luc Montagnier endorsed homeopathy in an interview published in Science Magazine in December 2010.

Dr. Luc Montagnier, the French virologist who won the Nobel Prize in 2008 for discovering the AIDS virus, took the scientific community by surprise with his strong support for homeopathic medicine.

Montagnier, who is also founder and president of the World Foundation for AIDS Research and Prevention, asserted, "I can say now that the high dilutions (used in homeopathy) are right. High dilutions of something are water structures which mimic the original molecules."

He was making reference to his research that confirms one of the controversial features of homeopathic medicine. Homeopaths use doses of substances that undergo sequential dilution with vigorous shaking in-between each dilution. Although modern-day scientists believe that none of the original molecules remain in solution, Montagnier's research has verified that electromagnetic signals of the original medicine remains in the water and have dramatic biological effects.

Montagnier's new research is investigating the electromagnetic waves that he says emanate from the highly diluted DNA of various pathogens. He asserts, "What we have found is that DNA produces structural changes in water, which persist at very high dilutions, and which lead to resonant electromagnetic signals that we can measure."

The Nobel Laureate affirms that these new observations will lead to novel treatments for many common chronic diseases, including but not limited to autism, Alzheimer's disease, Parkinson's disease, and multiple sclerosis.

Aditya Kumar Verma, a scientist and a homeopath based in Dehradun, says, "Just because a scientist cannot see the medicine beyond a certain point in the water, that does not mean that the medicine does not exist; it simply shows the limitation of the microscope. Very high dilutions have the power to remain within the body for the longest time. It is high time scientists acknowledged that."

Reader's Comments
Subject:
Homeopathic drugs dilutions X10 a great approach!
- 27 September 2012
NOBEL PRIZE winner o 2008 has rightly supported the principle o dilution in water DNA never disappears however thin it becomes.I fully agree. I had paralytic attack in 2009 then I was moved to Allopathic hospital by my family. I got up after some treatment, lost physical balance, limbs pains and
More...
by:
Dr.G.Balakrishnan MHPA(Lond) ., PhD(psy) LL.B