News - It is all in your hands
by Life Positive
Mudra Vigyan is an ancient healing science of India. It is based on the philosophy of panch-tatva or five elements (fire, air, space, earth and water) which as most of us are aware constitute life.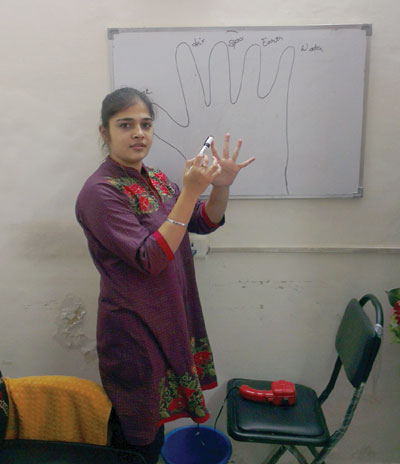 Jaspreet Kaur: Health on your fingertips Hasta mudras (hand gestures) help us to balance the proportion of these elements within our body thereby relieving many physical and mental problems. According to mudra vigyan, the tips of our fingers and thumbs denote the five elements of the universe. Thumb, index finger, middle finger, ring finger and little finger denote fire, air, space, earth and water elements respectively. This was part of a discourse on Mudra Vigyan by Ms Jaspreet Kaur in New Delhi recently. Mudra vigyan is all about balancing, sedating and toning these elemental energies in the human body depending upon its dosha (vata, pitta, kapha). The workshop also addressed the specific issues of the participants.

According to Ms Kaur, "Everyone knows or eventually comes to know their doshas or imbalances. The point is to recognise them and then apply logic to create your own beneficial mudra. Understand and customize, rather than plainly following what is stated." Apart from basic mudras like jnan, prithvi, vaayu, surya, prana and apaana mudra, some advance mudras like ling mudra, shankha mudra, sahaj shankha mudra and surabhi mudra were also touched upon. Talking about their benefits, Ms Kaur shared that in case of a heart attack, the hriday mudra (index finger on the base of the thumb, tips of middle and ring fingers on that of the thumb) works faster than a sorbitrate. Miraculous indeed!

Kaur, a certified healer from the International Institute of Alternative Sciences, states that Mudra Vigyan works not only because of the positive energy riding back into the body through hasta mudras, but also because of the faith and belief a person has on the therapy. According to her, hasta mudras can resolve issues such as gray hair, gall bladder stones, kidney dysfunction, arthritis, sinusitis and migraine. One only needs to have faith.