News - Journey beyond the mind
by Life Positive
I walk in joy through a holy and peaceful place.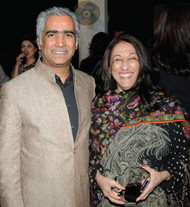 From the art: Sundram Tagore and
Kiran Nadar at the screening I forget everything and attain nirvana, when I paint," says noted Indian painter Natvar Bhavsar. The Poetics of Color, a 60-minute documentary on Bhavsar's work was screened in Delhi recently. The documentary charts Bhavsar's journey from the time when he was a man like the millions who live in India's villages to his transformation into an uncommon artist of international repute. His journey from his village Gothava in Gujarat to New York in the 1970s is a Horatio Alger story that does not fail to inspire. Bhavsar is today considered by art historians to be a fine artist whose work has attained considerable acclaim in Europe and America. "His art works have a certain kind of luminosity and exuberance that is rooted in Indian culture," says Sundaram Tagore, a respected art historian and director of the documentary on Bhavsar. "The colours, paint, brush and canvas used by him were very absorbing. The documentary stimulates hunger and thirst to know more about the works of Bhavsar," said Gayatri Bajaj, an art lover. Noted artist Jaya Dixit Peralta feels that Bhavsar's art has come from a state of no-mind. "It is existence that speaks through him in all its glorious colours and form," said Dixit-Peralta. Actor Sharmila Tagore and Jawhar Sircar, the secretary, Ministry of Culture, were also present for the screening of the documentary.