News - Joy of giving
by Life Positive
The week beginning September 27, Indians will be participating in the Joy of Giving Week, an initiative for us to open our hearts and give back to society.

This movement will be co-ordinated by GiveIndia, who also started fundraising in marathons in India.

The act of giving unites people across urban-rural, class, caste and gender barriers, dissolving the illusionary lines that keep us apart. Participating in this drive are Azim Premji, Sachin Tendulkar, Anurag Kashyap, Imtiaz Ali, AR Rahman, the autorickshaw unions of Chennai, the dabbawallas of Mumbai, and 101 amateur film-makers all over India. More than 35,000 schools, hundreds of colleges, several state governments, corporates, celebrities, sportspersons, and five-star hotels have signed up, with the list getting longer every day.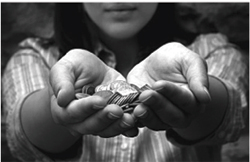 Blessed are the givers The emphasis isnít on an organised drive but on individuals making a difference. Simple things that anyone can do, for instance buy chappals for a homeless man, pay for your maidís childís education, take a street animal to the vet, or just offering a glass of water. Some inspiration can be got from young BPO employees whose parents are maids or drivers but are still eager to donate Rs 50 to 100 a month for a cause.

India, the nation, can only grow when her citizens grow closer, socially, economically and spiritually. Hereís your chance to do your part and help another and in doing so help yourself. Make sure your school, college or company does its part as well. Visit GiveIndia websites to participate in the joint effort, or silently play your part. www.joyofgivingweek.org, www.joyfest.in

September 2009