News - LP Bags Yet Another Award
by Life Positive
Life Positive was feted at a national conference on Naturopathy and Yoga in Chennai recently.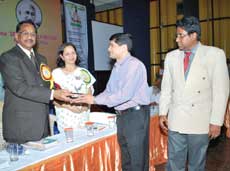 Signal honour: V. Venkat, the vice president,
Life Positive, receives the award. In an event organised by the International Naturopathy Organisation, Tamil Nadu and Puducherry, to unite and extend appreciation to those working in the field of naturopathy, natural living, natural diet and organic farming, Life Positive was extended this signal honour.

"Life Positive has been a tool and guide for propagating naturopathy, yoga and spirituality on a large scale," said Justice Rajeswaran at the valedictory function. He was keen to know when the planned Tamil edition of Life Positive would hit the stands. V Venkat, the vice president, Life Positive, received the award on behalf of the magazine. Inaugurated by Justice TN Vallinayagam, the two-day event witnessed dignitaries and delegates from across the world who participated in discussions on science, medicine, spirituality, yoga and natural food preparation. Dr Subramaniam Pavithra from the Nature Cure Hospital, Coimbatore, spoke at length on the concepts of toxemia and detoxification. DR Shakti Vijayan and Dr Sivasailam Vinayagam spoke on the importance of naturopathy in curing cancer and renal disorders during scientific sessions. Sister Neelima of Brahma Kumaris explained the benefits of meditation in daily life. Delegates were treated to delicious organic meals that left them looking good and feeling great.