News - Learning for life
by Life Positive
For more and more parents of young children, there is no greater mission than to ensure an education for their wards that is holistic and enables them to grow up not just equipped for a livelihood, but for a life. Bruised by their own educational experiences that gave them absolutely no clue on how to cope with lifeís increasingly complex conundrums, they are no longer willing to settle for conventional educational models.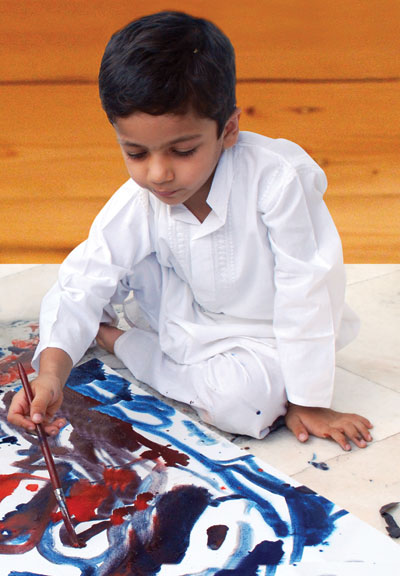 Allowing children to blossom naturally Enter Ukti, a school following the Waldorf education model, which recently opened in Delhi. The education model is created by Rudolf Steiner, a scientist, a visionary, and an educator who founded the first Waldorf School in Germany in 1919. Founded in January 2012, Ukti has been conducting workshops for children on storytelling, puppetry, and pretend play. On April 1, 2013, Ukti started its preschool based on Waldorf principles. It is a collective of teachers and parents whose goal is to offer children a complete and loving education that integrates the head, heart, and hands.

It recognises that children pass through specific developmental stages. Therefore, Uktiís early childhood programme emphasises unstructured, creative play as a vital early foundation for creative thinking. Other important elements include storytelling, spending time in nature, and creating a sense of purpose and industry through engagement in real tasks such as baking bread, cutting vegetables, organic gardening, and washing and cleaning. Learning becomes much more than the acquisition of quantities of information; it becomes an engaging voyage of discovery of the world, and of oneself.

The school is run by the Zutshi sisters, Saloni and Aparajita. While Saloni is a sociologist, Bharatanatyam dancer, professional storyteller and early childhood educator, Aparajita is an economist who conducts research on US health care policy issues and is an active parent-volunteer at Berkeley Rose School, a school following the Waldorf curriculum, in Berkeley, California. Ukti will start its grade school by opening of admissions for 1st grade in April 2015 and seeks like-minded educators, parents, administrators, and community leaders, to join and help grow the movement. Interestingly enough, India already has its share of Waldorf schools, with Sloka in Hyderabad and Tridha in Mumbai. A revolution in the making? Letís hope so.

Reader's Comments


Subject: learning - 22 July 2013
as az gathers------- the model-----induces----- 'learning from life' az
by: ajit zutshi