News - Little green warrior
by Life Positive
When Yugratna Srivastava, all of 14 years, rose to speak at a five–star hotel in Mumbai recently, the audience appeared unsure about what would follow.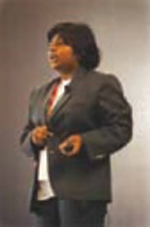 Teen-rage: Yugratna Shrivastava Yugratna is the Asia Pacific representative for the United Nations Environmental Programme in the Junior Board. She was 13 then, which made her the youngest speaker in the world to address the UN General Assembly on global climate change.

She did not disappoint at all.

Speaking exclusively to Life Positive, Yugratna, said, "We need to educate everyone irrespective of age to use only what is necessary and not waste scarce natural resources. I also believe there is need to create forums where young people like me can share ideas on ecology. Such forums should not be confined to cities alone. The ideas should be spread to rural areas as well."

As the goodwill ambassador of NGO Tarumitra, she has contributed to their efforts to reach out and spread ecological literacy to 1,600 schools and colleges across the country. Her speech at the UN was heard by an audience of over 100, including US President Barack Obama, Chinese premier President Hu Jintao, India's external affairs minister SM Krishna and UN Secretary General Ban Ki-Moon.

Yugratna was elected to represent the voice of three billion children and youth after she attended the Tunza International Youth Conference in Norway in 2008.