News - Look who turned
by Life Positive
The Arya Vaidya Sala Kottakkal (AVS), a century-old charitable institution engaged in the practice and propagation of Ayurveda,the ancient health care system of India, completed 30 years in New Delhi.

AVS was established in 1902 by visionary physician and philanthropist, the late Vaidyaratnam PS Varier at Kottakkal village in Kerala. From a village clinic, AVS has now grown into a multi-unit, multi-disciplinary and multi-crore organisation with 23 ayurvedic clinics across India. AVS has dealership network comprising over 1,200 dealers in India and abroad and runs a 160-bed charitable hospital at Kottakkal. Forty-five per cent of the profit generated by AVS is utilised for funding its charitable hospital at Kottakkal, 45 per cent on research and development activities and the balance 10 per cent is invested in promoting ayurvedic education through VPSV Ayurvedic College.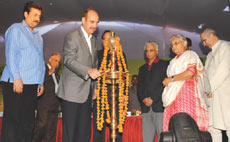 Union Minister Ghulam Nabi Azad inagurates the event Thirty years ago, the healing hands of AVS reached Delhi in the form of an ayurvedic clinic at E 76, South Extension Part -1 that provides free consultations, and also has a well-stocked ayurvedic pharmacy. AVS also opened a 35-bed hospital in 2,000 at Karkardooma in Delhi. To commemorate the 30th anniversary of AVS in Delhi, a public function was organised on November 21 at the Arya Vaidya Sala Kottakkal, Ayurvedic Hospital and Research Centre in Karkardooma.

Gulam Nabi Azad, the union minister for health and family welfare, CM Sheila Dikshit, TKA Nair, the principal secretary to the PM, and KK Varier, the general manager, Arya Vaidya Sala Kottakkal attended the event.