News - Love thy commuter
by Life Positive
Love and persuasion can often do what force and coercion cannot.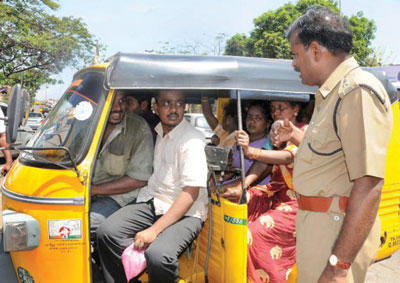 Creating harmony between auto drivers and commuters Realising the value of soft skills, the Andheri regional transport office at Mumbai has decided to resort to Gandhigiri to create better and congenial public transport system. "We have been penalising auto drivers against the complaints received from commuters, but realised that it was not the solution. We needed to change the attitude of the driver towards the commuter and vice-versa. That is why the slogan for the new project is, "I change therefore Mumbai changes," said Bharat Kalaskar, deputy RTO. RTO's official volunteers and NGOs have launched an initiative to impress on drivers the need for clean, fit vehicles and tamper-free metres. They have also appealed to commuters to be sensitive to the problems faced by auto drivers.

"Instead of cracking the whip on errant drivers, we go to the stands and appeal to drivers to maintain the best quality service in the Western suburbs. We also request passengers to understand the driver and not be too harsh on them," said Bharat Kalaskar.

Uniformed RTO officials, volunteers and activists have circulated pamphlets, put up posters and banners, and distributed stickers with the 10 commandments for the drivers, such as treat the customers as God, keep the vehicle clean and fit, use tamper-free e-metres and not refuse short distance fare. RTO officials and volunteers have also made commuters aware about the working of the e-meter, the calculation of fare, and the computation of waiting time so that they can know when they are being overcharged.

If one government agency can see the benefit of cooperation and conciliation, can we look forward to a time when government agencies everywhere will use their power to forge bonds between opposing interest groups and help bring them together in the larger interests of the nation? That would indeed be a move towards Ram Rajya.