News - Many paths one goal
by Life Positive
All our differences come from our beliefs and opinions. In actuality, there are no differences. Even modern science says that the universe is one energy manifesting in different ways.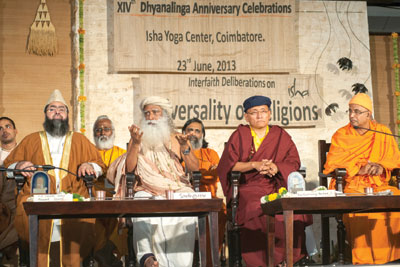 Masters deliberate upon universality of religions When one experientially sees this, we say he is in yoga," said Sadhguru as he addressed a gathering of around thousand people in a session of 'Interfaith Deliberations on the Universality of Religions' held in the Dhyanalinga yogic temple, Coimbatore.

The session saw a multitude of eminent dignitaries from various faiths and traditions come together for a non-sectarian discussion on the topic. Thiru Kumaraguru Para Aadigalar, Gaumara Mutt, spoke about US President Barack Obama's famous slogan 'Be the Change' that he borrowed from Nelson Mandela. "Mandela borrowed it from Mahatma Gandhi, who in turn got it from Swami Vivekananda. This example illustrates that while other nations depend on outer sciences, India is based on the inner sciences," he said. The event saw many spiritual gurus and leaders putting forward their take on the universality of religion. Gyalwang Drukpa said that to transform the world into a better place, human beings must live in a more conscious way in tune with nature. Sister BK Rajeshwari spoke on how religion is temporary, but spirituality is more enduring. Swami Sivayogananda, in his definition of universality of religion, referred to a poem of Subramaniam Bharati. He spoke of the importance of bringing peace into individuals' hearts before peace can be established in the world, saying "to come together, we must first accept and respect the differences between us."

The deliberation was a part of the 14th anniversary celebration of Dhyanalinga yogic temple by the Isha Yoga centre, Coimbatore. It is a powerful energy centre for meditation, set amidst the lush dense forests at the foothills of the Velliangiri Mountains, consecrated by Sadhguru Jaggi Vasudev. The celebrations also included chantings from different religions at the Dhyanalinga, starting early morning and ending the day with Guru Puja. Special guests performed the Nada Aradhana – an offering of sound – at the temple. The evening included a grand procession and a Maha Arati in front of the Dhyanalinga.