News - Merging with his master
by Life Positive
Walter, your life will be that of intense activity and meditation," had predicted Paramhansa Yogananda to his disciple J Donald Walters aka Swami Kriyananda when he had been his disciple at the SRF in Los Angeles, USA.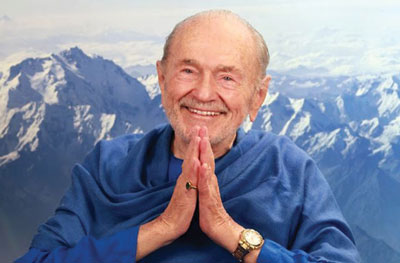 Sw Kriyananda: leaving behind a rich legacy And true to his master's words Swami Kriyananda left a great body of work behind him before he passed away on April 22, 2013, at the age of 86 at his home in Asissi in Italy.

"He had been unwell for a few days. He left (passed away) peacefully," a brief statement said. In over 60 years that he devoted to spirituality, Kriyananda, an American by birth, wrote around 140 books and 400 pieces of poetry which together sold more than three million copies in 90 countries. During this period, he preached Sanatan Dharma, Kriya Yoga and meditation, earning a large number of followers in India and abroad. He was a unique personality of many talents – a composer, lyricist, poet, playwright, an artiste, a singer, and a linguist with mastery over nine languages.

Kriyananda spent nearly four years with Yogananda until the latter passed away in 1952. After being with Yogananda's Self-Realisation Fellowship, for some time, Kriyananda founded the Ananda Sangha in 1969. He first came to India in 1958 and visited the country later many times, eventually opening an Ananda Sangha centre at Gurgaon near Delhi in 1993. If his Master Paramhansa Yogananda came to the West on a divine mission, directed and initiated by Mahavatar Babaji, to introduce the teachings of Self-realisation to a world audience, Swami Kriyananda continued the mission of carrying forward his guru's work. His message was universal, demonstrating how Yogananda's teachings can be applied to every aspect of life-education, business, marriage, family life, meditation, and social improvement.

An initiative dear to Swami Kriyananda's heart was the founding of "World Brotherhood Colonies" in America, Europe and India. Such small communities of "like-minded souls fostered the spiritual principles of "plain living and high thinking" while practically implementing them in daily life.

Mr DR Kaarthikeyan, President, Life Positive said, "He was a master who believed and convinced everyone that 'religions unite and do not divide; do unto others as you would have them do unto you; religious leaders need to treat one another as colleagues, and not as rival vendors in an outdoor market."

His last public discourse was in Chennai on January 20, 2013. After a life of sterling service, RIP, Swamiji.